Feedback received for Jennifer Lawrence (page 29 of 29):
Jennifer Lawrence - Rather Odd Success/Failure?!?! - December 10th, 2011
Well the odds weren't quite in my favor with this one. I received a 'Stamped' success/failure from Jennifer Lawrence. This time from her P.O. Box address. I sent to her at her Movie set address back in November and shortly after I heard that the film had already wrapped. So I wrote to her P.O. Box address in Louisville, KY just 5 days ago, yes, 5 days ago and today I received all my photos back stamped with her signature in silver.

There certainly not autopens, because on the one, the ink didn't adhere, so someone, not sure if it was Jennifer or her assistant, filled it in with a black sharpie.

What's really odd is Jennifer wrote 'May the odds be ever in your favor' on my custom card, but it's not signed!

Or even stamped. Lol. But the handwriting matches that of the same quote on my success I got from her film set. So maybe since she saw I wrote twice, she signed the first ones authentic and stamped these. So not that upset since I did get my ones back authentic.

SASE: - 4x6 Photos: - - 4x6 Custom card: - Sent: December 6th 2011 Replied: December 10th 2011 Days Taken: 5 Address Used: Jennifer Lawrence P.O. Box 6509 Louisville, KY 40206 USA RYAN-J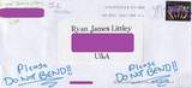 ---

Comment | View 19 comment(s)
---
Jennifer Lawrence SUCCESS!!! Authenticity opinions wanted. - December 5th, 2011
Hi everyone!!! I must say, I was not expecting much from this when I sent for it but I am stocked.

I sent to Jennifer Lawrence a heartfelt LOR, 4 pictures, and a SASE to this address: Jennifer Lawrence PO Box 6509 Louisville, KY 40206 Sent: 11/18/11 Received: 12/05/11 Here are scans (including the envelope) that is post parked from Louisville, Kentucky (where she is from): http://img14.imageshack.us/img14/1251/j ... ncenew.jpg http://my.imageshack.us/v_images.php I received 2 photos inscribed (1 to me and one to my close-friend) and the other two signed. I sent to her twice to the Hunger Games and I was not convinced they were authentic. Well, not the ones I got because it was toward the end of filming when many were skeptical because signatures seemed rushed than previous ones. Anyways, I am a tiny bit skeptical only because of the auto pen success a few weeks ago. And some of the signatures looks fuzzy (but none seem identical to each other: good sign) so I think its just the way the marker looks. I wanted to ask for authenticity opinions. I appreciate any help. I have a idea that shes answering all her fan mail from the set of her latest film; all being forwarded to her fan mail address. What do you think? Thanks and thanks to Fanmail.biz!! I am super psyched for "The Hunger Games." I read the first book and loved it.

-->


---

Comment | View 14 comment(s)
---
Jennifer Lawrence Success x2 - December 4th, 2011
Today I got a return from Jennifer Lawrence, she used my sase sent: November 15th, 2011 received: Today (Dec 3rd, 2011) address used Jennifer Lawrence PO Box 6509 Louisville, KY 40206 - - - - -





---

Comment | View 15 comment(s)
---
Jennifer Lawrence Success!!!!!!! - November 18th, 2011
For this autograph success, I simply used the fanmail address provided on her website: http://jenniferslawrence.com Jennifer Lawrence P.O. Box 6509 Louisville, KY 40206 Sent: November 4, 2011 Success: November 12, 2011 - P.S. Like to note that it came quite fast.

Wouldnt be surprised if they had forwarded this to the set in Philadelphia, PA where she is currently making a movie. Hopefully, I will get the autograph request I had sent to her via that address soon.

---

Comment | View 26 comment(s)
---
Jennifer Lawrence RTS - May 3rd, 2011
I used this address on the database: Jennifer Lawrence The Spotlight 7 Leicester Place London, WC2H 7RJ UK Received: RTS -

---

Comment | View 3 comment(s) | Address reported as RTS

---