Feddback received for Seth MacFarlane (page 5 of 16):


Seth MacFarlane Success - July 28th, 2017
In the last week of March 2017 sent three pictures and SASE to Seth Macfarlane. Got all three signed today and hes been kind enough to personalise one. He used a nice pen so the signatures have come out really well !! Thank you Mr. MacFarlane !! Used the address in the data base : Seth MacFarlane. Fuzzy Door Productions. 5700, Wilshire Blvd, Suite No 325, Los Angeles. CA 90036. USA.



---

Comment | View 1 comment(s)
---
Seth Macfarlane success - March 25th, 2017
Sent Mr. Seth Macfarlane a nice letter and dvd cover around November 20th 2016 and today 3/22/17 I received my dvd cover back signed and a personalized letter!



Really happy about this success. I used the database address.

---

Comment | View 5 comment(s)
---
Seth MacFarlane Semi Sketch Success - February 27th, 2017
Sent 2/13/17 Received 2/27/17 using database address. Seth MacFarlane "Family Guy Studios" c/o Fox Television 10201 West Pico Blvd. Los Angeles, CA 90064 USA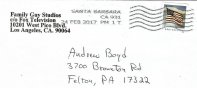 ---

Comment | View 3 comment(s)
---
Seth Macfarlane SUCCESS!!!!!!!!!!! - December 14th, 2016
Hell I sent a nice card to Seth for my boyfriend requesting an autograph and a letter of encouragement, as my boyfriend is trying to write his own show. I sent this card to him in July 2016 and received a dedicated autograph to my boyfriend with a personalized letter to him with a few words of encouragement! What an honor for him to take the time! I sent the card to the address : Family Guy Studios c/o Fox Television 10201 West Pico Blvd Los Angeles, CA 90064 Uploaded with ###://surfmypictures.com:surfmypictures

---

Comment | View 3 comment(s)
---
Seth MacFarlane success 4 yrs wait - November 16th, 2016
I sent a pic to seth macfarland and sase in march of 2012 recievd a personized signed pic from seth macfarland on 11-16-2016 it took over four years and wonder where it went and forgot about it address used family guy studios c/o fox television 10201 west pico blvd los angeles cal 90064
---

Comment | View 1 comment(s)
---