Feedback received for Seth MacFarlane (page 13 of 14):


seth macfarlane success!!!!!! - July 23rd, 2011
i sent an index card,sase and lor + a pic of my tat of naked peter griffin to seth at the fox studio addy in data base..within a month i recieved my card back initialed and the usual pp inscribed to me(of my fave character peter)...i know it might be a sec. but its also possible that this fool knows that SOME people are just wantin to make money and sell what they get for free..and that a card that says just s.m. is worthless unless ur a TRUE fan and all you want is for your hero to pen even a few squiggles on paper for you.ya never know cause the initials that ive seen look very similar to his actual full sig..anyways heres a pic of what i got back

http://imageshack.us/photo/my-images/202/pertwr.png/ im just happy i got somethin back..when i saw the stamp on my envelope that read family guy studios i almost flipped.this is one of the most talented,twisted,funny guys ive ever had the pleasure of writing..long live family guy!!also heres a pic of my tat..keep in mind its not finished by any means

http://imageshack.us/photo/my-images/84 ... re12q.jpg/


---

Comment | View 3 comment(s)
---
Seth MacFarlane success! - June 12th, 2011
My husband and I love Family Guy so I mentioned that and our favorite characters in my letter to Mr. MacFarlane. I received two sketches, one personalized to each of us...so exciting! As others have mentioned, the sketch itself and the signature are PP (photocopies to be exact), but the numbers on the bottom and the personalizations are not. Whether or not the inscriptions are authentic doesnt matter to me...the signature matches many others Ive seen. Im very happy with this success, and it was an awesome gift for me to give my hubby as a 1-year wedding anniversary gift!

Sent: LOR & SASE on April 28, 2011. Received: TWO signed and personalized sketches in my SASE on June 10, 2011. Address Used: Seth MacFarlane "Family Guy Studios" c/o Fox Television Animation 10201 W. Pico Blvd. Los Angeles, CA 90064 USA

Photo: - Envelope: -




---

Comment | View 11 comment(s)
---
Seth MacFarlane Succsses! - June 10th, 2011
Hello in april 12 I send a letter and a SASE to Seth MacFarlane ( Family Guy, American Dad!) and to day ( June 10) I got a nice drawing of my favourite charachter Brian. Im realy happy now



adress: Seth MacFarlane William Morris Endeavor Entertainment 9601 Wilshire Blvd. 3rd Floor Beverly Hills, CA 90210 USA it took about 2 months photo:
and I also got this:
---

Comment | View 3 comment(s)
---
seth macfarlane NICE SUCCESS - June 9th, 2011
my brother sent towards the end of april and received today a signed Brian scetch and index card. It is really cool. - -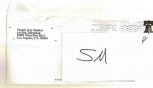 ---

Comment | View 23 comment(s)
---
Seth Macfarlane GREAT Success!!!! - June 8th, 2011
I am SO happy i got my seth macfarlane picture back signed along with 2 drawing one for me and one for my sister Sent: 1 photo ,SASE (April 20th) Recieved: 1 photo, 2 drawings( June

Address: I do not remeber but the return address is Family Guy Studios c/o Fox television 10201 West pico blvd. Los Angeles, CA 90064 - - -


---

Comment | View 15 comment(s)
---