Feedback received for Seattle Mariners (page 9 of 11):
Dustin Ackley Success(Seattle Mariners 2nd Basemen) - March 22nd, 2012
On february 13th I sent a 2011 topps rookie card to mr ackley. I received it back signed and personalized 38 days later. This is a great success from a up and coming player! Used seattle mariners spring training addy in database
---

Comment | View 1 comment(s)
---
Chone Figgins (Seattle Mariners) Succes - March 15th, 2012
On 3-7-12, I sent a LOR, SASE, and baseball card to Chone Figgins at : Chone Figgins C/O Seattle Mariners Spring Training Camp Peoria Sports Complex 16101 North 83rd Avenue Peoria, AZ 85382 On 3-14-12, I received my baseball card back autographed.
---

Comment | View 1 comment(s)
---
Seattle Mariners Fan Pack - February 16th, 2012
My son wrote an e-mail to the Seattle Mariners and requested a fan pack. He received the following a month later... -

---

Comment | View 1 comment(s)
---
Chris Chambliss success! (Seattle Mariners) - October 17th, 2011
Sent an LOR, SASE and a baseball card to Seattle Mariners coach Chris Chambliss on 6/1/11 at the Seattle Mariners team address. On 9/27/11 I recieved the card back signed! - -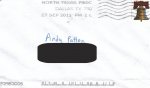 ---

Comment | View 1 comment(s)
---
Jaime Navarro Success!! (Seattle Mariners) - October 3rd, 2011
I sent a letter, card, and SASE to Jaime Navarro, current bullpen coach for the Seattle Mariners and former Milwaukee Brewers pitcher on 8/30/2011 and received it back today on 10/3/2011 signed with a black felt tipped marker!! Very Happy with this success he was one of my favorite players as a kid. Sent to: Mr. Jaime Navarro Seattle Mariners P.O. Box 4100 Seattle, WA 98194 Picture here: http://img11.imageshack.us/img11/3527/jaimenavarro.jpg .

---

Comment | View 1 comment(s)
---