Feedback received for Seattle Mariners (page 10 of 11):
Jaime Navarro Success!! (Seattle Mariners) - October 3rd, 2011
I sent a letter, card, and SASE to Jaime Navarro, current bullpen coach for the Seattle Mariners and former Milwaukee Brewers pitcher on 8/30/2011 and received it back today on 10/3/2011 signed with a black felt tipped marker!! Very Happy with this success he was one of my favorite players as a kid. Sent to: Mr. Jaime Navarro Seattle Mariners P.O. Box 4100 Seattle, WA 98194 Picture here: http://img11.imageshack.us/img11/3527/jaimenavarro.jpg .

---

Comment | View 1 comment(s)
---
Mike Brumley Success!! (Seattle Mariners) - September 29th, 2011
I sent a letter, 1 card, and SASE to Mike Brumley the current first base coach of the Seattle Mariners on 8/30/11 and received it back today 9/29/11 signed with a blue felt tipped marker!! Sent to: Mr. Mike Brumley Seattle Mariners P.O. Box 4100 Seattle, WA 98194 Picture here: http://img834.imageshack.us/img834/8467/mikebrumley.jpg

---

Comment | View 1 comment(s)
---
Mike Brumley Success!! (Seattle Mariners) - September 29th, 2011
I sent a letter, 1 card, and SASE to Mike Brumley the current first base coach of the Seattle Mariners on 8/30/11 and received it back today 9/29/11 signed with a blue felt tipped marker!! Sent to: Mr. Mike Brumley Seattle Mariners P.O. Box 4100 Seattle, WA 98194 Picture here: http://img834.imageshack.us/img834/8467/mikebrumley.jpg

---

Comment | View 1 comment(s)
---
Adam Kennedy Success (Seattle Mariners) - September 17th, 2011
In April 2011, I mailed Seattle Mariners Reserve Player Adam Kennedy a LOR, SASE, and 2011 Topps Heritage to Adam Kennedy at the Seattle Mariners Team Address. This was after Kennedy made the Mariners roster out of Spring Training. On September 16, 2011, I received back my signed card. -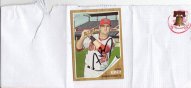 ---

Comment | View 1 comment(s)
---
Chone Figgins success (Seattle mariners) - September 13th, 2011
Sent a baseball card to mariners 3rd baseman chone Figgins on 9/1/11. I received mycard signed today in my sase. Sorry no scanner Sent 9/1/11 Received 9/13/11 Sent c/o Seattle mariners
---

Comment | View 1 comment(s)
---