Feedback received for Robert Downey Jr. (page 3 of 4):


Robert Downey Jr. Success !! - November 15th, 2015
I sent an 8x10 photo to the Civil War Set Back in April and received it back today. I know he uses a autopen or something to that matter. However I'm hoping this is legit because I didn't send it to Spanky Taylor.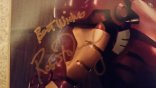 ---

Comment | View 7 comment(s)
---
Robert Downey Jr. PP - March 11th, 2015
Sent LOR and SASE on Jan. 12th, 2015 and received a PP in return on March 9th, 2015. Address Used: Robert Downey Jr. Team Downey 1311 Abbot Kinney Venice, CA 90291-3739 Please see below for photo and envelope:
---

Comment | View 10 comment(s)
---
Robert Downey Jr. Success - September 7th, 2014
I sent a lor sase & photo Robert Downey Jr. Team Downey 1311 Abbot Kinney Venice, CA 90291-3739 USA Received this Sept 3 I am well aware that most believe that everything from Spanky Taylor is a autopen, but i have a 10 year old who is thrilled beyond belief to have this. Say what you will, but for me this is a success

-

---

Comment | View 2 comment(s)
---
Robert Downey Jr. Success - September 2nd, 2014
I sent my request letter, 2 photos, an envelope and an IRC the 18.07.14 to this adress: Robert Downey Jr. Spanky Taylor, Inc. 3727 W. Magnolia Suite 300 Burbank, CA 91505 USA Today, the 02.09.14 I received one of the photos signed and the second proper but anyway Im very happy =) -

---

Comment | View 2 comment(s)
---
Robert Downey Jr. PP "Success" - July 7th, 2014
Sent Letter, SASE to Robert Downey Jr. on 5/16/14 at the below address. Received PP Photo back 7/5/14. Robert Downey Jr. Spanky Taylor, Inc. 3727 W. Magnolia Suite 300 Burbank, CA 91505 USA - Uploaded with ###://surfmypictures.com:surfmypictures

---

Comment | View 3 comment(s)
---