Feedback received for Richard Griffiths (page 1 of 9):
Richard Griffiths - Last success - March 29th, 2013
It is last time, when I can write about this success. I wrote a letter to Richard Griffiths few months ago. I was waiting for answer only a week. He sent to me my IRC coupon, so he sent a answer for his money! He was an amazing actor and human... Photo: http://aleeexsmile.blogspot.com/2012/10/charakterek.html -

---

Comment | View 4 comment(s)
---
Richard Griffiths (Success) - January 28th, 2013
Sent: 15.01.2013, LOR, SASE and 2 Pictures RECIEVED: 26.01.2013 my pictures in my SASE Haha he wrote something ON THE ENVELOPE because i dont know my stamps kind of were disrupted no idea how that happened. but he tried to write i IN GERMAN and asked me "what happened with your second stamp ?" I guess he used google translator for this which is quite cool

-

---

Comment | View 26 comment(s)
---
Richard Griffiths Fast success!:) - January 12th, 2013
Richard Griffiths today

sent January 3rd 2013 and got back today

he sent my letter back though ...but wrote a nice note on the photo!! I sent a photo, LOR and SASE

Took 8 days! :) Sent to the address in the database And photos can be found on my facebook page https://www.facebook.com/JenBaberAutographCollection -

thanks fanmail and Mr.Griffiths!

---

Comment | View 1 comment(s)
---
Richard Griffiths (Harry Potter) - January 5th, 2013
Sent: 1.11.2012: letter, photo and SASE Received: 20.12.2012: my photo back signed in my SASE Address: Richard Griffiths Dalzell and Beresford Ltd. 26 Astwood Mews London SW7 4DE UK photo: -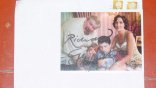 ---

Comment | View 1 comment(s)
---
Richard Griffiths HP success - January 5th, 2013
Sent: 4.07.12 Received: 12.07.12 I sent him a letter, SAE and photo. And after really short time I got signed photo and my letter with postscript: No stamp! Cheap. I know stamps are cheap but I have no idea where in Poland I can buy a English stamps. - - Adress: Richard Griffiths Bearley House Snitterfield Road Bearley Stratford - upon - Avon CV37 OSJ UK


---

Comment | View 2 comment(s)
---