Feedback received for Jessica Harper (page 1 of 1):
Jessica Harper success! - October 16th, 2012
Just got my package back today. She personally signed an 8x10 and the Suspiria DVD cover I sent her. Very cool! Think I sent it out to her Late Aug/Early Sept. Here are the pics: - -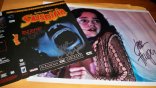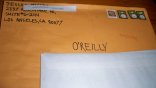 ---

Comment | View 3 comment(s)
---
My No-Success Streak is over! - Jessica Harper SUCCESS! - June 12th, 2012
Date Sent: 5/29/12 Received: 6/12/12 JESSICA HARPER 2337 Roscomare Rd., #2-244 Los Angeles, CA 90077 My eight month long no-success streak is over with this nice signed photo from Ms. Harper of SUSPIRIA and PHANTOM OF THE PARADISE fame. I sent a pic I made of her, a collage of characters I have seen her play, plus a nice note to go along with it. Today, I got the photo back that I made for her signed, sealed and delivered. A great success from a great lady.



---

Comment | View 3 comment(s)
---
Jessica Harper - Shock Treatment, Suspiria Success - May 23rd, 2012
I sent a LOR, two 8x10 photos and a SASE on March 16, 2012 to this address: Jessica Harper 2337 Roscomare Rd., #2-244 Los Angeles, CA 90077 Today I received the photos I sent signed and personalized. This is one of the best TTM successes I have ever had. I am a huge fan of hers, and love the two films she signed photos from. I always appreciate opinions on authenticity. Photo I sent: http://i1151.photobucket.com/albums/o62 ... 29/jh1.jpg 2nd Photo I Sent: http://i1151.photobucket.com/albums/o62 ... 29/jh2.jpg Envelope: http://i1151.photobucket.com/albums/o62 ... 29/jh3.jpg



---

Comment | View 6 comment(s)
---
Jessica Harper - June 17th, 2011
Sent sase, photo, letter oct 5,2010 rec june 15, 2011 - Jessica Harper 2337 Roscomare Rd., #2-244 Los Angeles, CA 90077 USA

---

Comment | View 0 comment(s)
---