Feedback received for Billy Crystal (page 3 of 11):
Billy Crystal Success - May 6th, 2016
On 5/6/16 - received my SASE back with the 2 photos I originally sent actor Billy Crystal, signed and personalized. The address I used was the home address that others have mentioned, per admin not going to post it. Thank you and good luck in your autograph requests.


---

Comment | View 4 comment(s)
---
Billy Crystal success - May 1st, 2016
He gained prominence in the 1970s for playing Jodie Dallas on the ABC sitcom Soap and became a Hollywood film star during the late 1980s and 1990s, appearing in the critical and box office successes When Harry Met Sally..., City Slickers, and Analyze This and providing the voice of Mike Wazowski in the Monsters, Inc. franchise. He has hosted the Academy Awards nine times, beginning in 1990 and most recently in 2012. mailed photo 1-22-16 received signed 2-11-16 used: Private address : Pacific Palisades, CA Note: per admin and some complaints from others here I don't post private addresses to protect privacy. http://surfmypictures.com/image/ec0c5ec ... nv07n.html
---

Comment | View 3 comment(s)
---
Billy Crystal/Paul Collins - both RTS - March 8th, 2016
Very sad about these two: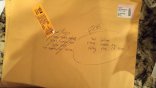 ---

Comment | View 1 comment(s) | Address reported as RTS

---
Billy Crystal RTS - February 29th, 2016
Today, I got Billy Crystal RTS. I Sent it to the Face Productions Inc. address. On the RTS it has another address, 9336 Washington Blvd Culver City, CA 90232-2628 Should I send to that one instead?
---

Comment | View 3 comment(s) | Address reported as RTS

---
Mr. Billy Crystal Awesome Success! - February 17th, 2016
On 2/1/2016 I mailed a letter to Face Productions Inc. asking if they could give my letter praising Mr. Crystal's acting career with how he inspires me including my story of my life dedicating him, a SASe envelope, and a birthday card with my hand drawing of Mike from Monsters Inc. wishing him a Happy Birthday for March 14th to Mr. Billy Crystal at Mr. Billy Crystal c/o Face Productions, Inc. 9336 West Washington Blvd. Bungalow S Culver City, CA 90232 (took about 3 weeks) On 2/16/2016 received a nice personalized message on a picture of him and a handwritten letter from him Here is the link: http://mwinick.blogspot.com/2016/02/mr- ... ystal.html

---

Comment | View 8 comment(s)
---