---
---
Players / coaching staff (2018-2019 season):


Josh Richardson (F), Wayne Ellington (G), Dwyane Wade (G), Derrick Jones Jr. (F-G), Goran Dragic (G), Tyler Johnson (G), Kelly Olynyk (F-C), Dion Waiters (G), Bam Adebayo (C-F), Derrick Walton Jr. (G), James Johnson (F), Rodney McGruder (G-F), Justise Winslow (F-G), Hassan Whiteside (C), Luke Babbitt (F), Jordan Mickey (C-F), Udonis Haslem (F), Erik Spoelstra (Head Coach), Dan Craig (Assistant Coach), Juwan Howard (Assistant Coach), Jay Sabol (Trainer), Chris Quinn (Assistant Coach for Player Development), Octavio De La Grana (Assistant Coach for Player Development),
---
How to send your fan mail and autograph requests to the Miami Heat?:


If you want to request an autograph, follow the guidelines bellow. If you just want to mail a letter with the address above, and do not want anything back, then you can stop reading! If you live in USA send a properly stamped and self addressed envelope (minimum size 8.5" x 4") with your request letter and a photo. You can include a piece of cardboard to keep the photo from bending in shipping and also add "Do Not Bend" on the envelopes. Send your letter and wait. On average, there is going to be a 3+ month wait for a response. If you do not live in USA, you can purchase your american stamps here *For information on postage prices to receive a letter from USA click here.
---
Feedback received:


Chris Bosh (Miami Heat) Success - January 9th, 2018
On 12/18/2017, I sent a LOR, SASE, and basketball card to Chris Bosh at : Chris Bosh 6396 N. Bay Rd. Miami Beach, FL 33141 On 01/08/2018, I received my basketball card back autographed. http://surfmypictures.com/image/7934993 ... u87cp.html
---

Comment | View 1 comment(s)
---
Keith Askins (fmr Miami Heat G/F) success - February 5th, 2017
sent him a TC on 1-13-17 & got it back signed on 2-4-17. Here's the addy I used: c/o Miami Heat American Airlines Arena 601 Biscayne Blvd. Miami, FL 33132
---

Comment | View 1 comment(s)
---
Keith Askins NBA Success (Miami Heat) - January 23rd, 2016
Sent LOR, SASE and TC to: Mr. Keith Askins c/o Miami Heat American Airlines Arena 601 Biscayne Blvd. Miami, FL 33132 Received my card back signed. Sent: 1/8/16 Received: 1/23/16 Uploaded with ###://surfmypictures.com:surfmypictures Uploaded with ###://surfmypictures.com:surfmypictures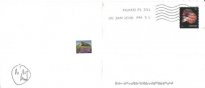 ---

Comment | View 5 comment(s)
---