Hey all! I put these on here a while back when a member was looking for stamps for her collection, but she never got in contact with me. So I figured I'd post them and see if anyone else may want them.
There's a 121 all together. I'll also throw in the two vintage president stamps and a 48-page booklet with such topics like: 'Famous Stamps' – 'Parts of a stamp' – 'Important words and terms' – Condition of stamps' etc, a pouch of hinges/tabs for keeping stamps in albums & two pages of flag stickers. There is one page where I stuck some of the flag stickers in it, but you might be able to remove those and put your own in.
I'm asking $10.00 (Which includes shipping) for the whole lot. Some of these stamps may be worth a lot more than that now, because like I said I haven't researched stamps in a long time & don't know current prices. And just to clarify, these are cancelled so you CANNOT put them on your envelopes and use as postage. There only for display.
Any questions? Let me know! Payment can be made via my Paypal account if you wish to purchase them.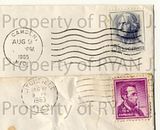 RYAN J.