Feddback received for Karen Gillan (page 3 of 5):


Karen Gillan Success - December 14th, 2015
I sent an 8 x 10 photo to Karen around 5 months ago to the Troika address in the database. I didn't receive the photo back but I was sent a postcard signed and dedicated by Karen.

---
Comment | View 4 comment(s)
---
Karen Gillan Sucess! - June 27th, 2015
Sent: May 16, 2015 Received: June 10, 2015 No return address. https://writinganyone.wordpress.com/201 ... en-gillan/ There's the link to my picture. I'm pretty sure it's authentic, but any imput?

---
Comment | View 8 comment(s)
---
Karen Gillan RTS :( - August 12th, 2014
Well...my first Dr. Who attempt was a bust. Apparently I didn't add proper postage. I really want to resend with the proper amount but am curious as to if it is a valid address. Thanks

---
Comment | View 7 comment(s) | Address reported as RTS

---
Karen Gillan Success! - January 16th, 2014
Sent: LOR, SASE, Photo on November 9th, 2011 Received: Photo signed on January 11th, 2014 Used the address on database. Karen Gillan Troika 10A Christina Street London, EC2A 4PA UK Really excited about this one because I wasnt expecting it back, and she is my favorite actress! Does anyone have opinions on if it is authentic? Always curious what others think! -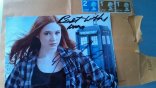 ---
Comment | View 3 comment(s)
---
Karen Gillan - Dr. Who - success - January 3rd, 2014
Karen Gillan c/o Independent Talent Group Address Outdated England 14.07.2011 - 03.01.2014 2 photos personalized and signed Photos: https://www.facebook.com/RaabigrammAutogramme Please
my facebook page

---
Comment | View 2 comment(s)
---