Feedback received for Herb Adderley (page 2 of 2):
Herb Adderley, NFL HOF'er, Success - July 18th, 2015
Sent Mr. Adderley a letter, 8x10, blue Sharpie, $5, SASE on 6/25/15, addressed to: P.O. Box 219, Mantua, NJ 08501. SASE returned 7/18/15 with 8x10 signed in blue, and with HOF '80 added (as requested). The top loader, was not returned, the photo was creased throughout, but worst of all, a one inch by one inch, bottom right corner of the 8x10 was missing. Sorry no photo.
---
Comment | View 2 comment(s)
---
Herb Adderley NFL HOF success - June 19th, 2015
Sent LOR, SASE, 8x10 and $5 donation to the following address: Mr. Herb Adderley P.O. Box 219 Mantua, NJ 08501 Received my photo back, signed with HOF inscription and the date he signed it. Sent: 6/6/15 Signed: 6/12/15 Received: 6/19/15


---
Comment | View 3 comment(s)
---
Herb Adderley (NFL HOF) Success - April 29th, 2014
On 4/16/14 I sent Herb Adderley a 1968 Topps card along with a $5 donation. On 4/25/14 I received my card back signed. Sent to: Mr. Herb Adderley PO Box 219 Mantua, NJ 08501 Uploaded with ###://surfmypictures.com:surfmypictures

---
Comment | View 1 comment(s)
---
Herb Adderley SUCCESS! - January 29th, 2014
Sent letter, SASE, photo, and $5 on January 16 and received signed with "HOF 80" today! - Uploaded with ###://surfmypictures.com:surfmypictures Address Mr. Herb Adderley P.O. Box 219 Mantua, NJ 08501

---
Comment | View 1 comment(s)
---
Herb Adderley SUCCESS!!! - July 24th, 2012
I am so completely happy to have gotten this success back. I had actually completely written this off. Back in April I sent a Packer license plate to Herb Adderley at his New Jersey address. Im trying to get all of the living Packers in Canton to sign this license plate. I sent the license plate, LOR, SASE, Sharpie & $5 fee. Sent: 4/9/2012 Received: 7/24/2012 Updated with Jim Taylor: 8/1/2012 Updated with James Lofton: 8/9/2012 -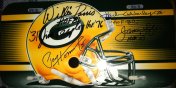 ---
Comment | View 11 comment(s)
---