Feedback received:


Patrick Dempsey failure - February 2nd, 2018
Sent: LoR, photo to be signed, index card to keep envelope stiff, and SASE on December 9th, 2017 Received: Letter and photo sent back with note scribbled on index card Address used: Patrick Dempsey 2121 Peachtree Industrial BLVD #STE 2A Buford, GA 30518 I can guarantee you that it was his real address; I heard something about him moving to a certain area in Georgia and found the address there. There was his age, middle initial, and it was in the rich part of that area, everything. But I still got this.... (However, I looked up his autographs and found one with his handwriting. I think the writing on the index card matches it the slightest bit, so I'm keeping it.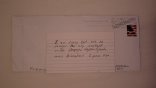 ---
Comment | View 1 comment(s)
---
Patrick Dempsey half-success - October 28th, 2017
Sent: LoR, photo to be signed, SASE on July 10th, 2017 Received: Original photo sent back and new photo on September 9th, 2017 Address (in database) used: Patrick Dempsey The Burstein Company 15304 Sunset Blvd. Suite 208 Pacific Palisades, CA 90272 Even though it is not real, I'm still keeping it--better than nothing.
I found another address for him, one that seems to be a home address. I'll soon try it and make sure to share it if I have a success. Uploaded with ###://surfmypictures.com:surfmypictures

---
Comment | View 1 comment(s)
---
Patrick Dempsey - Pre-print success / failure - March 15th, 2016
I sent Patrick Dempsey a letter and a photo for him to sign and today (after about 3 months), I received a pre-printed 5 X 7 autographed photo of Mr. Dempsey from Studio Fan Mail. I used the address in the database, but still got a response from Studio Fan Mail. Somewhat disappointing, but I would imagine that he gets a lot of fan mail since it took nearly three months to get a response from SFM. I guess we get what we get

---
Comment | View 1 comment(s)
---