Feedback received:


John Hurt success - July 25th, 2016
address uesd Independent Talent Group Ltd 40 Whitfield St London WIT 2RH Received monday 26 july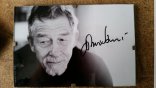 ---
Comment | View 2 comment(s)
---
Sir John Hurt SUCCESS! - April 8th, 2016
I sent a letter, SASE, and photo on February 8th and today I received my photo signed!!! Address used: Sir John Hurt, CBE c/o Independent Talent Group, Ltd. 40 Whitfield Street London W1T 2RH UK This was a looooooong time coming. I sent my first request back in January of 2014 and never received it, the sent several other times and all I got were "Return To Sender"s. I'm ecstatic to receive it after a few years.

---
Comment | View 3 comment(s)
---
John Hurt Success - March 14th, 2016
John Hurt, English actor (the "Harry Potter" series, "Tinker Tailor Soldier Spy") Sent: LOR, photo, and SASE on December 31, 2015 Address Used: Independent Talent Group Ltd., 40 Whitfield Street, London W1T 2RH, UK Received: photo, signed and personalized, in SASE on March 15, 2016 Excited to receive this! I thought I might not get it back, given his recent health issues. This is my 15th Harry Potter success, my third from a British Knight, and my fourth from the film "Tinker Tailor Soldier Spy." Thanks very much!
---
Comment | View 3 comment(s)
---