---
---
Players you can contact at this address (2020 season):


Mason Englert (Pitcher), Antonio Cabello (Catcher), Dustin Harris (Outfielder), Dane Acker (Pitcher), Keithron Moss (2nd baseman), Luisangel Acuna (Shortstop), Jose Rodriguez (Outfielder), Ben Anderson (Pitcher), Evan Carter (Center fielder), Marc Church (Pitcher), Gavin Collyer (Pitcher), Jayce Easley (Left fielder), Alejandro Osuna (Outfielder).
---
How to send your fan mail and autograph requests to Down East Wood Ducks?:


If you want to request an autograph, follow the guidelines bellow. If you just want to mail a letter with the address above, and do not want anything back, then you can stop reading! If you live in USA send a properly stamped and self addressed envelope (minimum size 8.5" x 4") with your request letter and a photo. You can include a piece of cardboard to keep the photo from bending in shipping and also add "Do Not Bend" on the envelopes. Send your letter and wait. On average, there is going to be a 3+ month wait for a response. If you do not live in USA, you can purchase your american stamps here *For information on postage prices to receive a letter from USA click here.
---
Feedback received:


Michael Matuella MiLB Success (Down East Wood Ducks) - October 25th, 2018
Sent LOR, SASE and TC to: Mr. Michael Matuella 1029 Timbercreek Trl. Great Falls, VA 22066 Received my card back signed and personalized. Sent: 10/15/18 Received: 10/25/18 http://surfmypictures.com/image/ad7643a7750a52ad/g1lx9.html:http://surfmypictures.com/photo/ad7643a7750a52ad/g1lx9/Michael_Matuella.jpg Uploaded with http://surfmypictures.com:surfmypictures http://surfmypictures.com/image/ad7643a7750a52ad/hg7r4.html:http://surfmypictures.com/photo/ad7643a7750a52ad/hg7r4/MME.jpg Uploaded with http://surfmypictures.com:surfmypictures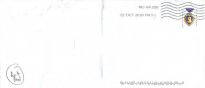 ---
Comment | View 1 comment(s)
---