Sent: June 10, 2013
Received: June 17, 2013
-SUCH A QUICK RESPONSE!-
Used the address in the database.
I sent a SASE, 1 8x10 photo, a fairly long silly fan letter (I felt so weird writing to someone who has been a part of my life since I can remember and a huge part of my childhood you have no idea, it was the equivalent of a stuttering nervous fan girl in letter form, LOL) and a Q&A for him to answer!
I had a piece of cardboard in the envelope but he must have forgot to put it back in when he put the stuff in to mail it back to me, thankfully I had written all over the thing not to bend and it seemed to come back in good condition!
Anyway, he is the NICEST ever and clearly took the time to read my fan letter and look past my unfortunate way of not knowing what on earth I was saying half of the time...because he sent me back another photo. Of him as Santa in Elf. Why? Because I wrote to him that he was one of the top 5 best Santa's of all time, in my opinion, and that...it was a difficult task to measure up, because my father really
is
Santa! (not lying---he looks like Santa.)
Envelope: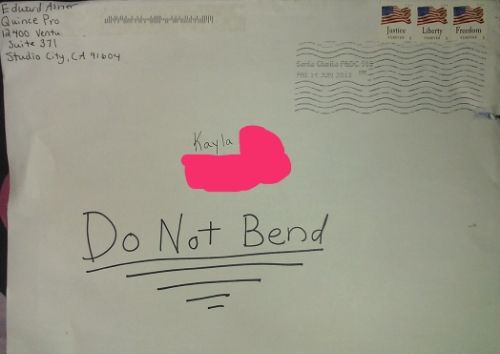 The photo I sent:
The extra photo he sent back:
The Q&A:
The first answer he actually spelled wrong LOL It's supposed to be Axel Jordach
E
from the 1970s TV miniseries "Rich Man, Poor Man"
Also LOVED his answer to the last question, SO SASSY! LOL and so true!!! I mean they were all great answers but that one tickled me!