Joined: Tue Jan 10, 2012 2:03 pm
Posts: 1324
Location: Asunción, Paraguay
Autographs received: 94
Collector since: 2012
Antic5 wrote:
Got a Return to Sender from Jefferson Airplane/Jefferson Starship/Starship frontwoman Grace Slick. On September 28, I sent a request to the address in the database:

Grace Slick
5956 Kanan Dume Rd
Malibu, CA 90265-4027

On November 6, I received the letter back marked "Not Deliverable As Addressed".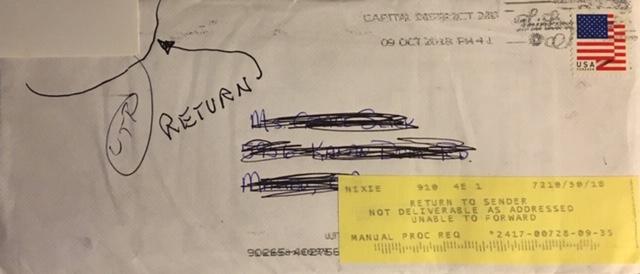 Uploaded with
surfmypictures
Well that looks like her handwriting. Maybe she stopped signing?


_________________
Collector from Asunción, Paraguay

TTM:

J. Williams, E. Morricone, F. Beckenbauer, J. Dench, O. Pistorius x 2, L. Matthäus, R. Völler, O. Kahn, H. Ford PP, G. Müller, Steppenwolf, B. Borg, I. McKellen, M. Hamill, F. Rossi, R. Parfitt, G. Scarfe, G. Slick, R. Federer, J. Guldberg, T. Stahl, P. Collins, R. Ballard, P. Withers, J. Illsley, G. Martin, H. Lewis, J. Bulloch, F. Pienaar, P. Coelho, G. Sinise, S. Maier, J. Carter, L. Marini, P. Breitner, R. Stewart, B. Bardot, D. Zoff, T. Burgnich, J.E. Jones, K. Baker, J. Zanetti, M. Gorbachev, R. Bonhof, S. Thorgerson, R. Daltrey, U. Eco, W. Samuel, Sting, J. Cocker, T. Ravelli, H. Shore, J. Hurt, R. Baggio, H. Mirren, K. Spacey, K. Moss, R. Kopa, P. Čech, J. Fontaine, R. Duvall, S. Loren, A. Ferguson, R. Astley, S. Moss, J. Reno, B. Nighy, R. Scott, M. van Basten, J. Cruyff, J. Voight, B. May, A. Moore, B. Gibb, A. Arkin, R. Plant, J. McEnroe, Roxette, Heart, B. Andersson, M. Platini, Figo, Rivellino, Pelé

IP:

A. Parsons, V. Mortensen