Hello,
Definitely sent this one as a joke and was not expecting a reply!! I heard in an Eastenders fan group that Dave the Cat had official 'cast photos' so while I was sending off a batch of Eastenders requests, I decided to send a letter to Dave.
I just sent an envelope addressed to Dave with a SAE inside, in a larger envelope with several other Eastenders letters. About a week later, I received a Dave the Cat Eastenders Cast Card!!
Technically not an autograph (wasn't really expecting one from a cat LOL) but still a reply/success so I thought I'd share it on here! I was in absolute hysterics when I opened the SAE

Sent:
7/7/2017
Received:
15/7/2017
Address Used:
Dave the Cat
EastEnders
BBC Elstree Centre
Clarendon Road
Borehamwood
Hertfordshire WD6 1JF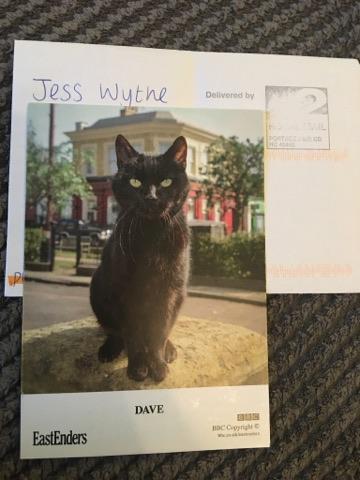 Thank you!