NO FREAKING WAY!!

Just got a totally unexpected reply back from the Man of Steel himself……….BRANDON ROUTH aka SUPERMAN!!

Never ever thought I'd see this request come back! He's been one of my most wanted signatures for years ever since I saw Superman Returns.
Started a cast project back in 2008 on collecting the main cast from SR and received amazing TTM replies from Kate Bosworth, Stephan Bender, Eva Marie Saint, Frank Langella and Kevin Spacey In-Person thanks to a kind friend in the U.K.

Brandon has a very rare history of replying authentically TTM, but I sent him a request anyway back in January of 2008 to his agency and after a long while figured it was a lost cause, but imagine my shock when I get both my custom items back from him today…..Signed!

SOOO Excited!!

And kind of weird too, as I was just looking at my Superman Returns DVD yesterday! lol.

SASE: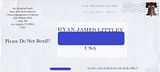 4x6 signed Custom Cards: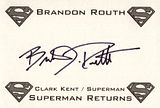 Sent: January 2nd 2008
Replied: July 30th 2011
Days Taken: 1, 306
Address Used: (Assuming it's still valid)
Brandon Routh
Main Title Entertainment
(Talent Management Company)
5225 Wilshire Blvd. Suite 500
Los Angeles, CA 90036
USA
RYAN-J