As many know, Metallica received this year's Polar Music Prize and Lars and Rob came to Stockholm to receive the award.
The day before the ceremony, Lars went to shoot an interview with respected Swedish music journalist Jan Gradvall at the Royal College of Music in Stockholm. Tickets were available not only for students but also for subscribers to the largest newspaper in Sweden, DN, so a friend and I got to watch the interview live and it was very entertaining with Gradvall asking interesting, difficult questions and playing snippets of Metallica songs and music that inspired Lars, and Lars was talkative and cool. Should be out somewhere on youtube or SVT Play.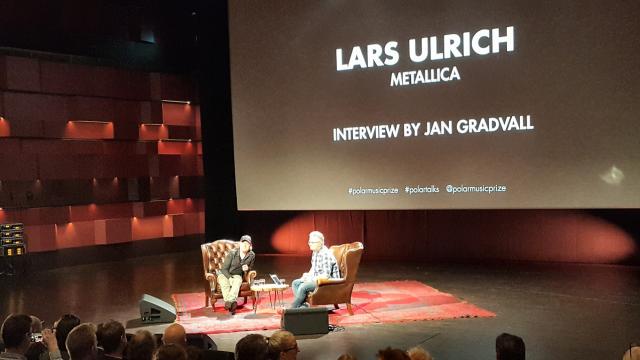 Uploaded with
surfmypictures
After the show three black limousines and a van drove up to the side of the building. We walked over to that side and there were two fans there already by the door with the "Polar Music Prize" sign. A few more arrived before the door opened and out stepped Metallica manager Peter Mensch who was also in attendance. Lars and manager Cliff Burnstein followed, Lars seemed to walk over and get in the car, but he just put the flowers he received in the car, turned around, grabbed someone's pen and started signing. A total of maybe nine fans got a couple of albums each signed, here is what I got:
Uploaded with
surfmypictures
The location for this year's Polar Prize ceremony was changed last minute, so instead of going to and from Konserthuset where they usually receive the awards and watch performances, this year the entire event took place at Grand Hotel. This meant you had to be there early or able to get inside to get the other stars present. It would have been cool to get Roger Glover and Ian Paice of Deep Purple, Rainbow and Whitesnake fame to sign as they presented the award to Metallica, but no such luck. I did see the King and Queen of Sweden leave the building in a black Rolls though, followed by two of their children in a black SUV. Unfortunately, the royals do not sign autographs other than for official purposes.