I sent a picture in a SASE to Mel
(Mel Gibson
Icon Productions
808 Wilshire Blvd.
4th Floor
Santa Monica, CA 90401-1894
USA)
on 8/3/17 and received it back on 11/13/17.
He didn't personalize it like I had asked him to, but I'm not going to complain. I figured I had a snowball's chance in hell getting this back, so imagine how surprised I was. I also got a little worried for a second, cause his signature is so awful. I figured a sec had signed it or something until I went to authenticate it. He's had an awful signature for years, one of Hollywood's worst, so that calmed me a bit.
I'm very happy to get this one back, as "Braveheart" is my all time favorite movie.
Now...if Woody Harrelson would just send mine back, I'd have my most wanted!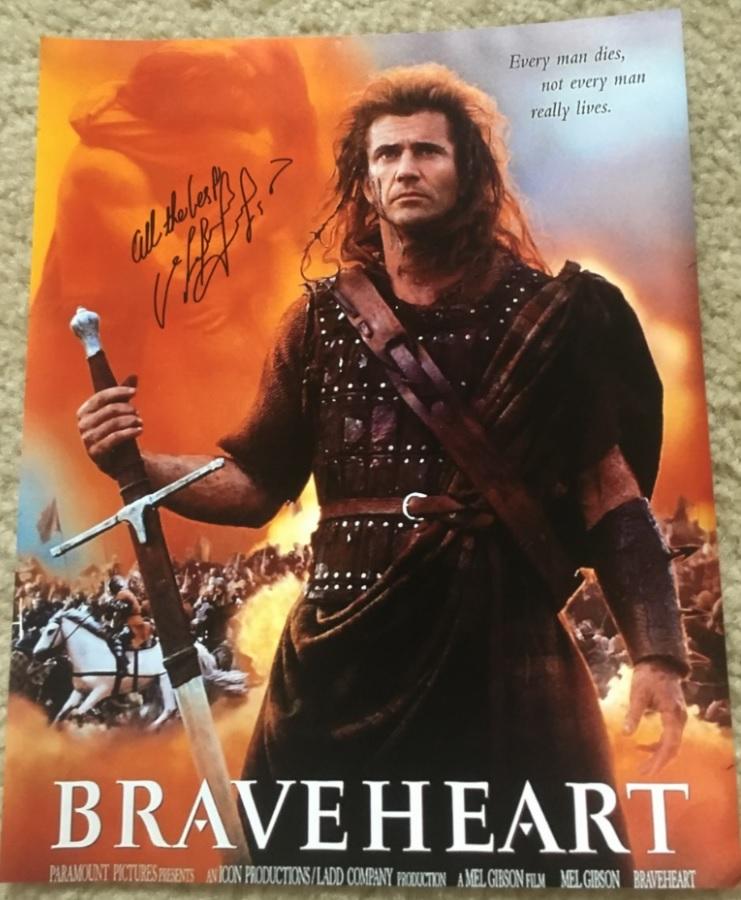 Uploaded with
surfmypictures
Uploaded with
surfmypictures

_________________


Signatures received TTM

:

Keith Gordon, Ted DiBiase, Betty White, Kurtwood Smith, Bob Barker, John Walsh, Edward Norton, John Douglas, Tom Kalinkse, Al Franken, Rob Paulsen, James Lovell, John Carpenter, Jesse Ventura, Gary Busey, Gene Okerlund, Larry Flynt, The Young Turks, Jimmy Kimmel, Ivan Lendl, Will Vinton, Lynda Carter, Katie Featherston, Mel Gibson, Nancy Cartwright, Robert Patrick, Shaq, John McEnroe, Kevin Conroy, Pierce Brosnan, Jimmy Carter, Howard Stern, Phil Hellmuth, Peter Weller, Patrick Stewart, Craig Nelson, Aaron Eckhart, Jean Reno, Susan Sarandon, Svengoolie, Michael Ironside, Jeanie Buss, Annie Potts, Sam Elliot, Jason Alexander, & Brian Cox.





Waiting on

:

Woody Harrelson, Gene Hackman, Bill Maher, Ted Levine, Michael Mann, Oliver Stone, Jeff Goldblum, David Letterman, Robert Duvall, Ian McKellen, Chris Barnes, James Worthy, Michael Keaton, Joe Pesci, James Saito, Kevin Costner, Dennis Leary, Tom Berenger, William Peterson, Martin Sheen.