$10 gift certificate winner.


Joined: Thu Mar 29, 2018 8:38 pm
Posts: 50
Autographs received: 50
Collector since: 1974
I have a some signed trading cards, hero cards, sports equipment and so forth, but my favorite is collecting autographs on playing cards. I've been doing this since middle school and I'm working on completing several decks. The cards I have so far are (+ designates TTM):
Diamonds
Ace: Roberta Flack, Tony Randall+, Tomie dePaola, Kirk Douglas
2: Elizabeth Taylor+, Leslie Nielsen, Mister Rogers+, Chubby Checker, Tito Puente
3: Julia Child, Isaac Hayes, The Redskins "Hogs", Frank Howard
4: Michael Caine, P.J. O'Rourke, Dick Van Dyke+, The A*Teens
5: Clive Barker, Martin Yan, June Foray+, David Spade, Mark Mothersbaugh+
6: Perry Como+, Mel Proctor, Mitch Richmond, Backstreet Boys
7: Arthur Fiedler+, Chuck Yeager+, Tiffany Taylor, Kwame Brown
8: Lawrence Welk+, Sid Caesar+, *NSync, Cal Ripken Jr.+
9: Victor Borge+, Carly Simon, Kathy Mattea
10: Boog Powell, Robin Leach, Jamie Asher, Eli Wallach+, Tom Dolan, Hunter Tylo
J: Darrell Green
Q: Roseanne Arnold, Gloria Steinem+
K: Brooks Robinson, Richard Petty+

Spades:
Ace: Anne Rice, Carl Reiner
2: Captain Kangaroo, Joe Frazier, Seth MacFarlane+
3: Jerry Lewis+, Dr. James Watson+, Jair Lynch, Jan Berenstain
4: Bob Hope+, Paul Prudhomme, Brian Regan
5: Art Buchwald+, Joe Theismann, Billie Jean King+, Mick Foley
6: Count Basie+, Lin-Manuel Miranda+
7: David Brinkley+, Dick Vitale, Kyle Petty
8: Ted Kennedy+, Rachel Ray, Regis Philbin+
9: Wolfman Jack, Dave Barry
10: Jonas Salk+, Tony Curtis+
J:
Q: Alexa Vega
K: Jesse James, Vint Cerf+

Hearts
Ace: Arthur Ashe, Thurl Ravenscroft+
2: Hubert Humphrey+, John Eaton, Olaf Kolzig, Chick Hernandez
3: Jack Nicklaus+, Gale Sayers, Mark Russell
4: Corbin Bernsen, Art Monk, B*Witched
5: Teller, Gena Lee Nolin, Loretta Divine, Dave Rogers, Mario Andretti+
6: Hank Aaron+, Vanessa del Rio, Claude Nicollier
7: Charlie Sheen, Pepper Davis, George Carlin
8: Tom Berenger, Mary Lou Retton, Clayton Moore+
9: Linus Pauling+, Lauren Bacall+, Mia Hamm, Tara Strong+
10: C. Everett Koop+, Agnes Nixon+, Ralph Nader+
J: Elvis Stojko, Stephen Fry+
Q: Sophia Loren+, Rita Moreno+, Diana Rigg+
K: Sydney Poitier

Clubs
Ace: Jack Lemmon+, Muhammad Ali, Kristin Chenoweth+
2: Jimmy Cagney+, Eathan O'Bryant, Rob Weir, Frank Cho
3: George Burns+, Penn Gillette, Noam Chomsky+
4: Bette Davis+, Pete Seeger+, Stephen Sondheim+, Mark Spitz+
5: Wes Unseld, Nancy Hogshead, Emeril Lagasse, Bill Maher
6: Henry Fonda+, Steve Allen
7: Anthony Quinn+, Dr. Francis Crick+, Guy Lafleur+
8: Paul Newman+, LeVar Burton
9: Dr. Benjamin Spock+, George Takei, Mikhail Baryshnikov+
10: Gene Kelly+
J: Joey Bishop+, Jules Feiffer, Sterling Marlin
Q: Mac King
K:

Joker: Adam West, Tim Minchin+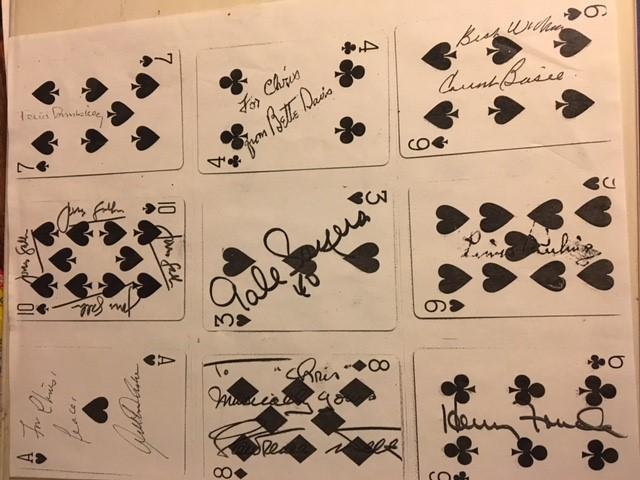 Uploaded with
surfmypictures
Sports equipment I have includes:
Baseballs: Harold Baines, Don Buford, Pepper Davis, Jeffrey Hammonds, Pete Incavaglia, Eddie Murray, Denny Neagle, Rafael Palmiero, Cal Ripken Jr., Brooks Robinson, 1998 Baltimore Orioles (Ryan Minor, Nerio Rodriguez, Doug Johns, Pat Gillick, Ray Miller), 1999 Baltimore Orioles (Will Clark, Ray Miller, Mike Timlin, B.J. Surhoff, Delino Deshields, Doug Johns, Frank Wren, Scott Kamieniecki, Mike Figga, Scott Erickson)
Footballs: Rod Milstead, Gale Sayers, Doug Williams, Redskins Team Ball (Joe Theismann, Art Monk, Darrell Green, Don Warren, Jeff Bostic, Russ Grimm, Joe Jacoby, Charles Mann, Pat Fischer, Darryl Pounds)
Basketballs: 1993 Washington Bullets (Tom Gugliotta, Buck Johnson, Doug Overton, Brent Price, LaBradford Smith, Larry Stewart)
Soccer Balls: Marco Etcheverry
Hockey Pucks: Don Beaupre, Peter Bondra, Jim Carey, Al Iafrate, Olaf Kolzig, Adam Oates
Hockey Sticks: Al Iafrate, Rick Tabaracci (goalie stick), 1993 Washington Capitals (Dimitri Khrystich, Bob Carpenter, Paul Cavellini, Keith Jones, Don Beaupre, Kelly Miller, Alan May, Paul MacDermid, Peter Bondra, Keven Hatcher, Todd Krygier, Steve Konowalchuk, Mike Ridley, Shawn Anderson, Randy Burridge, Reggie Savage, Michael Pivonka)
Boxing Gloves: Joe Frazier
Autographed Books includes:
Roseanne Arnold, Clive Barker, Dave Barry, Jan Berenstain, Fred Bowen, Norman Bridwell, Michael Caine, Eric Carle, Jimmy Carter, Michael Crichton, Kirk Douglas, Jules Feiffer, Mick Foley, Arlo Guthrie, Captain Kangaroo, Leslie Nielsen, P.J. O'Rourke, Penn & Teller, Jon Pierson, Sydney Poitier, Anne Rice, Cal Ripken, Jr., J.K. Rowling, Micho Russell, Clifford Stoll
Signed CDs includes:
Marty Casey, Mary Costa, Steve Forbert, Arlo Guthrie, Isaac Hayes, Ice-T, Leila Josefowicz, Barry Manilow, Meat Loaf, Linda Ronstadt, Carly Simon, Lee Ann Womack, B*Witched, Maroon 5
Playbill and program autographs include:
Mickey Rooney (Wizard of Oz), Nana Visitor and Robert Urich (Chicago), Peter Boulware (Baltimore Ravens Game Program), Gordie Howe (1993 Gordie Howe 65th Birthday Tour Program), Randy Newman (Kennedy Center Millenium Stage 2nd Birthday Program), The Ramones (Ramones Concert Program), Margo Timmons (Wolf Trap Program), Dizzy Gillespie and Beverly Sills (Wolf Trap 20th Anniversary Program)
My wife also has an impressive list of autographed cookbooks including Curtis Aikens, Valerie Bertinelli, Alton Brown, Julia Child, Roberto Donna, Nathalie Dupree, Penn & Teller, Isaac Hayes, Patti LaBelle, Emeril Lagasse, Michael Lomonaco, Jacques Pepin, Paul Prudhomme, Rachel Ray, Mary Lou Retton, Dinah Shore, Martha Stewart, and Martin Yan.
I'm currently awaiting responses back from Margaret Atwood, Burt Bacharach, Rick Baker, Tim Berners-Lee, Jack Black, Don Bluth, Warren Buffett, Carol Burnett, Tim Burton, RuPaul Charles, Christo, Alice Cooper, Nadia Comaneci, Bart Conner, Robert Crumb, Roger Daltry, Danny Elfman, Al Franken, Dr. Jane Goodall, Matt Groening, Buddy Guy, Debbie Harry, Eric Idle, Eddie Izzard, Rev. Jesse Jackson, Mick Jagger, Katherine Johnson, Garry Kasparov, Carole King, Mark Knopfler, Sid & Marty Krofft, Nathan Lane, Angela Lansbury, Ralph Lauren, Stan Lee, Gordon Lightfoot, John Lydon, Jeff Lynne, Shirley MacLaine, Chuck Mangione, Cheech Marin, Peter Max, Cormac McCarthy, Don McLean, Lorne Michaels, Bette Midler, Joni Mitchell, Ozzy Osborne, Patton Oswalt, Frank Oz, Danica Patrick, I.M. Pei, Pelé, Christopher Plummer, Thomas Pynchon, Martha Quinn, Martin Scorsese, Willard Scott, Neil Simon, Paul Simon, Christian Siriano, Bruce Springsteen, Martha Stewart, Twyla Tharp, Neil Degrasse Tyson, Betty White, John Williams, Henry Winkler, Tiger Woods, and "Weird Al" Yankovic.
~Antic5
Last edited by Antic5 on Wed Aug 15, 2018 1:16 pm, edited 83 times in total.