Feedback received for Tom Trebelhorn (page 1 of 1):
Tom Trebelhorn Fr. MLB Player/Manager Success - July 12th, 2020
Tom Trebelhorn Major Success!!! I used the following address: Tom Trebelhorn 7514 E Arlington Rd Scottsdale, AZ 85250-6432 USA I sent my LOR and SASE on June 22, 2020, and got it back in 7 days!!!!! I got it back on June 29, 2020.
---

Comment | View 1 comment(s)
---
Tom Trebelhorn (MLB) - January 21st, 2020
Sent 1 card to Tom Trebblehorn (MLB) on 1-7-20 Returned 1-21-20 http://surfmypictures.com/image/98f7418faaa82f7c/9279d.htmlrl Uploaded with http://surfmypictures.comsurfmypicturesrl

---

Comment | View 1 comment(s)
---
MLB Tom Trebelhorn SUCCESS! 12/14/19 - December 14th, 2019
Sent LOR, SASE, and 91 Topps card on 12/3/19 to: Tom Trebelhorn 4344 SE 26th Ave. Portland, OR 97202. Got response 12/14/19 (11 days), card returned, signed in blue marker. http://surfmypictures.com/image/91463f007ad046d6/r7m8s.html

---

Comment | View 1 comment(s)
---
MLB Tom Trebelhorn Success - February 18th, 2017
Sent a LOR, SASE, and 2 TCs to : Thomas Trebelhorn 4344 SE 26th Ave Portland, OR 97202 Sent : 2/6/17 Received : 2/18/17 http://surfmypictures.com/image/e9a4db6 ... dd01o.html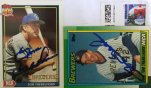 ---

Comment | View 4 comment(s)
---