Feedback received for Susan Sarandon (page 1 of 6):


Susan Sarandon Success! - June 26th, 2018
On 7-6-16, I sent LOR, SASE & two 8x10's to: Susan Sarandon P.O. Box 1218 New York, NY 10011 On 6-22-18, I received both photos back, signed and personalized! I'd gotten hopeful after seeing recent returns from her, and after almost two years, she came through!

---
Susan Sarandon Success - June 15th, 2018
Sent: October 12 2017 Received: June 14 2018 I sent her a letter, self-addressed envelope and two photos. Eight months later, she replied with my two photos signed with dedication. Address: Susan Sarandon P.O. Box 1218 New York, NY 10113 USA Photo: https://unbb24auto.blogspot.com/2018/06/susan-sarandon.html


---

Comment | View 2 comment(s)
---
Susan Sarandon - Multiple Successes. - June 1st, 2018
Have been trying for Ms Sarandon's autograph for the past two years and would have sent her 3 SASE with with two pictures each over the last 24 months before i gave up sending any more. Yesterday i got three envelopes from her with my 6 pictures sent over the last 24 months duly signed and shes been kind enough to personalise each one of them. I have seen some others here mention their success from Ms Sarnadon so i presume shes cleared one large lot of pending mails recently which is being posted out. I sent to the address in the data base. Susan Sarandon P.O. Box 1218 New York, NY 10113 USA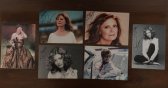 ---

Comment | View 4 comment(s)
---
Susan Sarandon Success! - May 24th, 2018
I sent 2 pictures, in a SASE to Susan, (Susan Sarandon P.O. Box 1218 New York, NY 10113 USA) on 10/25/17 and received them back on 5/21/18. They were each personalized to my wife and I. Uploaded with ###://surfmypictures.com:surfmypictures Uploaded with ###://surfmypictures.com:surfmypictures


---

Comment | View 2 comment(s)
---
Susan Sarandon Success - May 17th, 2018
Took close to a year but this was one I never thought would come back signed AND personalized. Sent LOR, SASE, and photo to: Susan Saradon PO BOX 1218 New york, New york 10113

---

Comment | View 6 comment(s)
---