Feedback received for Sophie Thompson (page 2 of 5):
Sophie Thompson success! (Harry Potter) - November 21st, 2013
Sent: 21st October 2013 Received: 15th November 2013 She included a third photo. Its the black and white one. I love it! Thank you Ms Thompson! Adress used: Sophie Thompson Independent Talent Group Ltd. 40 Whitfield Street London W1T 2RH UK - Sparkly ?

---

Comment | View 1 comment(s)
---
Sophie Thompson Success, Mafalda Hopfkirch in Harry Potter - November 15th, 2013
Heute Neu: Sophie Thompson (Mafalda Hopfkirch in Harry Potter) Independent Talent Group Ltd., Oxford House, 76 Oxford Street, London W1D 1BS 1 OAK mit Widmung + 2 mitgeschickte Fotos signiert mit Widmung 16.10.2013 - 15.11.2013 -

---

Comment | View 0 comment(s)
---
Sophie Thompson - Harry Potter - success - November 14th, 2013
Address: Sophie Thompson Independent Talent Group Ltd. 40 Whitfield Street London W1T 2RH England 18.10.2013 - 14.11.2013 3 photos personalized and signed Photos: https://www.facebook.com/RaabigrammAutogramme - Uploaded with ###://surfmypictures.com:surfmypictures - Uploaded with ###://surfmypictures.com:surfmypictures Please

my facebook page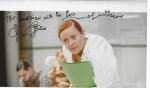 ---

Comment | View 1 comment(s)
---
Sophie Thompson (hp) success! - October 14th, 2013
Sent: LOR, SAE, 1IRC, 2 photos (end of september 2013) Received: My 2 photos signed and personalised in my SAE (11.10.2013) Address used: via agency - - http://img853.imageshack.us/img853/2300/dl2s.jpg



---

Comment | View 3 comment(s)
---
Sophie Thompson (Harry Potter) Succes! - September 27th, 2013
I sent my letter to Sophie Thompson 29.07.2013 I wait for answer 1,5 month. Sophie Thompson sent to me autograph on my photo, but she sent to me also second, signed photo! PHOTO: http://www.alexsubiektywnie.pl/2013/09/dwa-w-jednym-sophie-thompson.html Address: Sophie Thompson Independent Talent Group Ltd. 40 Whitfield Street London W1T 2RH UK
---

Comment | View 1 comment(s)
---