Feedback received for Philadelphia Phillies (page 20 of 20):
Cliff Lee Possible Success?! (Philadelphia Phillies) - May 10th, 2011
On February 25th I sent out a LOR an 8x10 and a SASE to the Phillies Spring Training Facility and on May 7th I received my photo back unsigned but a postcard/statcard from Cliff Lee and a letter stating that hes too busy to sign everything that gets sent to him but hopes that I enjoy the signed card instead. Upon first glance I believe this is a preprint but not 100% sure. The thing that has me questioning it is why would it be somewhat a faded signature at the beginning if it was a preprint. I would definitely like peoples comments on authenticity on this one! The return address was the Phillies home stadium in Philadelphia. Address Used: Cliff Lee c/o Philadelphia Phillies Bright House Field 601 Old Coachman Road, Clearwater, FL, 33765 Photo: - Envelope: - Letter: - Please comment on your thoughts of authenticity!!



---

Comment | View 10 comment(s)
---
Jamie Moyer Success (Philadelphia Phillies) - May 10th, 2011
Sent Jamie Moyer a LOR, SASE, and a 2010 Topps in Early April 2011 in care of the Philadelphia Phillies. Received my signed card on May 10, 2011. Beautiful success from the ageless wonder of baseball. -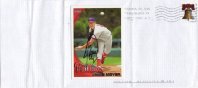 ---

Comment | View 3 comment(s)
---

Last 10 feedback received:

Essays Summary Of The Book Of Job
Aug 12, 2020
Patrick Gorman Success
Aug 12, 2020
Musician Pat Green Fail/rts
Aug 12, 2020
Ms. Martha Reeves Mowtown Singer Awesome Success!
Aug 12, 2020
Patrick Wayne Actor
Aug 12, 2020
Brooke Adams Rts
Aug 12, 2020
Amanda Da Gloria Success, German Actress
Aug 12, 2020
Harriet Herbig-matten Success, German Actress
Aug 12, 2020
Britta Steffen Olympia Success
Aug 12, 2020
Alain Bernard Olympia Success
Aug 12, 2020


Popular queries: