Feedback received for Peter Cullen (page 2 of 5):
Peter Cullen - success - August 8th, 2018
Hi. I got mine back today after 18 months. He signed my Transformers: The Movie (Blu-Ray) - 30th anniversary edition.

I'll upload a screenshot later. I also requested a voice message for my voicemail as Optimus Prime, but nada.

" title="Crying or Very sad" />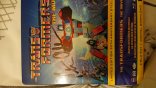 ---

Comment | View 6 comment(s)
---
Peter Cullen (voice of Optimus Prime) success - August 7th, 2018
Sent him an 8 by 10 of Optimus Prime, the cartoon one, on 12-23-17 and got it back signed today, 8-7-18. Here's the addy I used: c/o TGMD Talent Agency 6767 Forest Lawn Drive, Suite 101 Los Angeles, CA 90068
---

Comment | View 1 comment(s)
---
Peter Cullen succes - April 21st, 2017
Hi theman2312

Thank you for your feedback

Would you have a scan of the envelope you received please? If so, you are in the run for the $10 gift certificate.

http://www.fanmail.biz/45149.html:Peter Cullen on Fanmail.biz | http://www.fanmail.biz/feedback/Peter_Cullen.html:Previous Feedback(s) Received Fanmail

---

Comment | View 0 comment(s)
---
Peter Cullen success - April 8th, 2017
sent 3.17.16. received 4.6.17 Address: Peter Cullen TGMD Talent Agency 6767 Forest Lawn Drive Suite 101 Los Angeles, CA 90068 Uploaded with ###://surfmypictures.com:surfmypictures

---

Comment | View 6 comment(s)
---
Peter Cullen Success X2 - February 8th, 2016
Sent LOR, SASE and 2 8x10s to: Mr. Peter Cullen c/o TGMD Talent Agency 6767 Forest Lawn Dr. Suite 101 Los Angeles, CA 90068 Received both photos back signed and personalized, one for me and one for my friend's son. Sent: 6/22/15 Received: 2/8/16 Uploaded with ###://surfmypictures.com:surfmypictures Uploaded with ###://surfmypictures.com:surfmypictures


---

Comment | View 1 comment(s)
---