Feedback received for Oakland Raiders (page 3 of 6):
Jay Schroeder NFL (Oakland Raiders) RTS - September 30th, 2015
Sent LOR, SASE and 2 trading cards to: Mr. Jay Schroeder c/o Village Christian High School 8930 Village Ave. Sun Valley, CA 91352 Came back marked RTS, no longer at that address. Sent: 9/21/15 Received back: 9/30/15 Uploaded with ###://surfmypictures.com:surfmypictures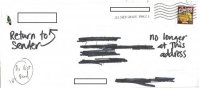 ---

Comment | View 3 comment(s) | Address reported as RTS

---
Derek Carr 2x SUCCESS (Oakland Raiders) - September 24th, 2015
I sent two Derek Carr cards (one college and one NFL) to the raiders stadium...got both back today signed "DC 4" in gold pen! Pretty cool return!
---

Comment | View 1 comment(s)
---
Derek Carr (Oakland Raiders) Success - February 24th, 2015
Sent: SASE, LOR, and 3 Football Cards to Derek Carr about 2-3 months ago. Received: All 3 Football Cards back signed in my SASE, today; February 23, 2015. Address Used: Derek Carr c/o Oakland Raiders 1220 Harbor Bay Parkway Alameda, CA 94502 Photo (signed cards and envelope): http://surfmypictures.com/image/a71187c ... qkgbp.html Thanks, YankeeFan123


-->

---

Comment | View 2 comment(s)
---
Latavius Murray Success (Oakland Raiders) - January 10th, 2015
Sent Dec 8 14 Rec Jan 10 15 https://fbcdn-sphotos-a-a.akamaihd.net/hphotos-ak-xpa1/v/t1.0-9/10361330_10153231827109316_7479270174720131480_n.jpg?oh=a98a7659826a1c28ba47a84cae07f6c7&oe=553D8F12&__gda__=1429458436_35d2cd6dbb054fe47538c69fba5095c2
---

Comment | View 1 comment(s)
---
Derek Carr (Oakland Raiders) - December 9th, 2014
Sent- 9/8/14 Rec- 12/9/14

---

Comment | View 1 comment(s)
---