Feedback received for Mike Cameron (page 3 of 4):
Mike Cameron - March 29th, 2013
Mailed: 03/15/13 Recvd: 03/29/13 Items: 3 cards Mike Cameron Removed -

---

Comment | View 1 comment(s)
---
Mike Cameron Ex-MLB Outfielder Success - March 3rd, 2013
Mailed these out about a week and a half ago to the address that I have seen used on here. Sent 2 cards, with a LOR and SASE, which came back with no return address. Big fan of Mr. Cameron from his days as a Met and Red Sox. The address used was the house address in Georgia. Sent- 2/20/13 Received- 3/02/13 Items- 2 Cards -

---

Comment | View 2 comment(s)
---
Mike Cameron success! - October 2nd, 2012
On 9/24/12, I sent a letter, two cards, and SASE to the former outfielder at Mike Cameron 615 Champions Dr. McDonough, GA 30253 On 10/1, I received both cards back signed in blue sharpie! Sorry, no scan.
---

Comment | View 1 comment(s)
---
Mike Cameron (Retired Major Leaguer) - September 24th, 2012
I sent Mike Cameron, former Brewers (and many other teams) outfielder a LOR, SASE and 2 cards. You can see a full write up and photos on my blog http://collectorscrack.blogspot.com/2012/09/ttm-success-mike-cameron.html - - TTM Stats Date Sent: 9/5/12 Date Recieved 9/14/12 Address used Mike Cameron 111 Congressional Ct McDonough, GA 30253-4247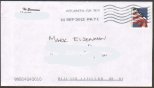 ---

Comment | View 1 comment(s)
---
Mike Cameron Success - September 1st, 2012
Today, I recieved my custom card back and signed in blue by Mike Cameron. Sent: 6/27/2012 Recieved: 9/01/2012 66 Days Address: Mike Cameron 111 Congressional Ct McDonough, GA 30253
---

Comment | View 1 comment(s)
---