Feedback received for Lee Smith (page 1 of 1):
MLB HOF'er Lee Smith FAIL - February 9th, 2019
On 2/1/19, I mailed a baseball card, along with 2 blank cards, to Lee Smith at the Castor, LA address on file. On 2/9/19, I received his rejection. He wrote on one of the blank cards "We don't sign blank items", returned my card unsigned, and also included a price list for future requests. Card signatures are apparently $20.
---

Comment | View 1 comment(s)
---
Lee Smith MLB HOF Success - January 17th, 2019
Sent LOR, SASE, TC and $20 to: Mr. Lee Smith P.O. Box 399 Castor, LA 71016 Received my card back signed. Sent: 1/9/19 Received: 1/17/19 http://surfmypictures.com/image/aee4a8b8f722dfd5/g0j0z.htmlrl Uploaded with http://surfmypictures.comsurfmypicturesrl http://surfmypictures.com/image/aee4a8b8f722dfd5/vkjm2.htmlrl Uploaded with http://surfmypictures.comsurfmypicturesrl

---

Comment | View 1 comment(s)
---
Lee Smith MLB Fail - May 25th, 2017
Sent LOR, SASE and TC to: Mr. Lee Smith 2124 Hwy. 507 Castor, LA 71016 Received my card back unsigned and a price list. Sent: 5/8/17 Received: 5/25/17 Uploaded with ###://surfmypictures.com:surfmypictures Uploaded with ###://surfmypictures.com:surfmypictures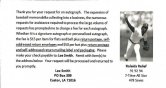 ---

Comment | View 3 comment(s)
---
David Lee Smith (CSI:Miami) success - June 1st, 2012
For the past few years I have been trying to get my custom card signed. Been mailing to his manager at Chaotic with no luck. Recently, I noticed that he had a new agent. So I tried sending there. Got it back 15 days later signed. Mailed 5/17/12..Recv.6/1/12 Mailed to:Metropolitan Talent Agency 7020 La Presa Drive Los Angeles, CA 90068 -
---

Comment | View 2 comment(s)
---