Feedback received for Karen Gillan (page 3 of 5):


Karen Gillan Success! - January 16th, 2014
Sent: LOR, SASE, Photo on November 9th, 2011 Received: Photo signed on January 11th, 2014 Used the address on database. Karen Gillan Troika 10A Christina Street London, EC2A 4PA UK Really excited about this one because I wasnt expecting it back, and she is my favorite actress! Does anyone have opinions on if it is authentic? Always curious what others think! -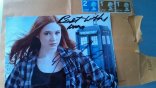 ---
Karen Gillan - Dr. Who - success - January 3rd, 2014
Karen Gillan c/o Independent Talent Group Address Outdated England 14.07.2011 - 03.01.2014 2 photos personalized and signed Photos: https://www.facebook.com/RaabigrammAutogramme Please

my facebook page


---

Comment | View 3 comment(s)
---
Karen Gillan ( Amy pond in dr who) - September 19th, 2013
i cant remember when i sent it exactly.. must be end 2011... begin 2012........ it was a while before she changed to another agent Troyka.... So i used indepence in London..When i saw she changed agent, i thought id never hear anything anymore. guess they passed it on to the new agent somehow..... i also think its on the road for a long long time now. Mail is slow here in holland... the stamp somehow sais 16.8.20....... cant see the year;-) (i have gotten mail that was stamped a year 1,5 ago once......it took that long, so nothing suprises me really). i send her a handwritten letter and a selfmade card and a SASE. (with english stamps). its personalized and i think its 100% authentic....Share thoughts please;-) I am so happy with this one...I LOVE AMY POND -

---

Comment | View 5 comment(s)
---
Karen Gillan success - August 30th, 2013
Sent: 23 Feb 2012 - letter, 5x7, 5.25x7.25 SAE with postage, all in 5.5x8.5 envelope Received: 30 Aug 2013 - signed and personalized the 5x7 that was sent (and sent back the postage!) Address Used: Karen Gillan Independent Talent Group Ltd. Oxford House 76 Oxford Street London W1D 1BS UK [DO NOT USE. Address is no longer valid!



- -


---

Comment | View 5 comment(s)
---
Karen Gillan RTS - June 17th, 2012
I wrote to Karen at Independent talent Group and got a RTS http://imageshack.us/photo/my-images/42/1150256.jpg/ Strange since other people have had successes lately

---

Comment | View 6 comment(s) | Address reported as RTS

---