Feedback received for Julie Newmar (page 3 of 4):
Julie Newmar - May 14th, 2015
Back in March I sent to Julie Newmar at her home address. A few weeks later I received a beautiful signed and personalised photograph from her and she had paid postage. I didn't even request an autograph, so it was ever so generous of her to send it to me. I was so pleased! What a kind lady she is.
---

Comment | View 1 comment(s)
---
Julie Newmar FAILURE - January 27th, 2015
Sent Julie Newmar a fan letter, 4x6 photo of her dressed as Catwoman that I requested to be autographed, and a SASE on 12/31/14. Received a response 1/26/14 containing only a cardboard flyer, which can be seen in the picture below. Never even got back the photo that I sent. I checked out the website listed, and she wants $35 per photo! Pretty let down about this one, as she appeared at a convention here last year. Really wanted to meet her but was unable to. Anyway, here is the address that I tried, which is also the return address on the envelope: Julie Newmar 1949 Chariton St. #2 Los Angeles, CA 90034 Here are images of the envelope and the flyer I received.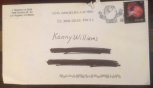 ---

Comment | View 13 comment(s)
---
Julie Newmar Failure - November 11th, 2013
I wrote to her 1/18/13, sent SASE, LOR and 2 small photos. Got it back this past week. Nothing signed with a an ad photo for http://www.julienewmar.com/shop to buy signed photos.


---

Comment | View 13 comment(s)
---
Julie Newmar- TTM Failure! - September 23rd, 2013
Hi Everyone! Back on 4/12/2013 I sent to Julie Newmar my fan LOR, photo, & a SASE. On 9/22/2013 I received my photo back unsigned, along with a letter sadly telling me she only signs for autographs you buy from her website. She also included an ad for her website. I just want to pass it on so nobody will waste a stamp in case they were planning on writing to her. I used this address: Address removed letter: - ad: - envelope: -


---

Comment | View 5 comment(s)
---
JULIE NEWMAR SUCCESS - February 5th, 2013
I sent LOR, SASE and photo on May 15th and received personalized photo on Jan. 19th. The address I used was: JULIE NEWMAR Address removed - -


---

Comment | View 1 comment(s)
---