Feedback received for Judi Dench (page 2 of 55):
Judi Dench - success - December 1st, 2019
Sent: 24.10.2019 Received: 28.11.2019 Address: JULIAN BELFRAGE ASSOCIATES 9 ARGYLL ST FL 3 LONDON W1F 7TG UNITED KINGDOM http://grafkamil.blogspot.com/2019/12/461-judi-dench.html
---

Comment | View 2 comment(s)
---
Dame Judi Dench Email Success! - October 21st, 2019
Email Sent: September 21st Autograph Received: October 21st Hey Guys! I've received an autograph from Dame Judi Dench after I sent her a fan mail exactly a month ago. I've found the mail address on this site, so I wanna thank you all for the recommendation! It was a shitty day, but the letter made it so much better!

Mail Address: email at julianbelfrage.co.uk Pic: http://surfmypictures.com/image/91463f007ad046d6/06d6x.html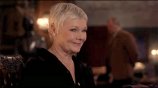 ---

Comment | View 1 comment(s)
---
Judi Dench Email Success - September 17th, 2019
The lovely Judi Dench with a nice personalised signature, fairly happy with it ^_^ Method: Email Date sent: 14/08/2019 Date back: 16/09/2019 Address: sent via to email at julianbelfrage.co.uk http://surfmypictures.com/image/b3eb39c43fd1f07d/4trs9.htmlrl Uploaded with http://surfmypictures.comsurfmypicturesrl

---

Comment | View 3 comment(s)
---
JUDI DENCH EMAIL SUCESS - August 14th, 2019
I SENT AN EMAIL TO JUDI ON JULY 19 AND TODAY AUGUST 13 I RECEIVED PHOTO AND ENVELOPE LINK: http://surfmypictures.com/image/25f3ad89acc11acd/hx6b7.html http://surfmypictures.com/image/cf641aac88d99048/7nimp.html https://www.instagram.com/p/B1INXeWH2Yy/
---

Comment | View 1 comment(s)
---
Success: Judi Dench - July 21st, 2019
Sent 1 photo: 6/11/19 Received: 7/5/19 Address: JULIAN BELFRAGE ASSOCIATES 9 ARGYLL ST FL 3 LONDON W1F 7TG UNITED KINGDOM http://surfmypictures.com/image/a0fb491d57854e12/2p5t9.htmlrl Uploaded with http://surfmypictures.comsurfmypicturesrl

---

Comment | View 1 comment(s)
---