Feedback received for Johnny Depp (page 6 of 17):
Johnny Depp - June 16th, 2015
Johnny Depp I have sent to Johnny Depp 2 times. 2 different addresses on the same day .Spanky Taylor, and in Australia where he is filming the Pirates of Caribbean. The one in Australia got forwarded to Spanky Taylor. And i received to letters with AP autographs. Pretty disappointed from one of my favorite actors. Via: Mail x2 Waited: 45 days Received: 08.06.15 Sent: 23.04.15 Dedication: No Sent: A SAE and a LOR and a photo x2 picture: or http://philongautographs.wix.com/autogr ... e6a4e1a8eb address in databse

---

Comment | View 4 comment(s)
---
Johnny Depp Success - April 7th, 2015
Yesterday, I received a signed photo (the picture that I sent to Mr. Depp) in the mail. I had originally sent him two pictures, but he only signed one of them. I will try to scan it for everyone to see. It's a nice photo of him as Captain Jack Sparrow. I used the address on this site and it took about two months to receive in the mail. I was incredibly happy to receive this.
---

Comment | View 5 comment(s)
---
Johnny Depp - April 7th, 2015
I believe this is an autopen because I heard Spanky Taylor only sends fakes. What do you think? Sent-January 26th, 2015- LOR, 4x6, SASE Received-April 6th, 2015- my 4x6 signed Johnny Depp United Talent Agency 9336 Civic Center Drive Beverly Hills, CA 90210-3604 USA
---

Comment | View 20 comment(s)
---
Johnny Depp, success - December 25th, 2014
I sent a letter and photo to the united talent agency address on October 15th 2014. Received my photo back signed on December 24th 2014. Return address on envelope: the spanky taylor company 3727 w. Magnolia blvd #300 Burbank, ca 91505
---

Comment | View 7 comment(s)
---
Johnny Depp success (autopen?) - November 17th, 2014
My daughter sent letter picture and SASE on 9-15-14. Returned signed 11-17-14. Kinda looks like autopen signature. Address used: Johnny depp united talent agency 9336 civic center drive Beverly hills, CA 90210-3604 you can see all my autographs follow me on twitter at cavewv -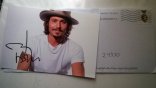 ---

Comment | View 4 comment(s)
---