Feedback received for Emma Roberts (page 5 of 5):
Emma Roberts success! - September 29th, 2011
Sent: Around July/August 2011 Received: September 28th 2011 I sent two photos, LOR, SASE. I received both photos signed and personalized in my SASE and she also included a signed index card. Emma Roberts Sweeney Management 8755 Lookout Mountain Avenue Los Angeles, CA 90046 USA - - - Awesome addition for my "Scream" collection!



---

Comment | View 14 comment(s)
---
Emma Roberts Success - September 29th, 2011
SENT: 7/12/2011 - LOR, SASE & 2 Photos. RECIEVED: 9/29/2011 I recieved all my photos signed plus she included a signed index card. Postmarked from NY PHOTOS: http://www.flickr.com/photos/28111763 at N05/6196350950/in/photostream http://www.flickr.com/photos/28111763 at N05/6196351262/in/photostream http://www.flickr.com/photos/28111763 at N05/6195838621/in/photostream ENVELOPE: http://imgur.com/MoN0V


---

Comment | View 9 comment(s)
---
Emma Roberts success? - September 29th, 2011
I havent been on here lately, been really busy with school! But I recieved a response back from Emma Roberts yesterday. I wrote her three months ago, and sent two pictures, a letter, & SASE. I recieved the two pictures back personalized, as well as a notecard. Little confused by this, because I think I read on here she doesnt sign TTM anymore? Also, I sent to an address in CA, and the envelope is postmarked from NY. Autho opinion? Used address in database. - By ###://profile.imageshack.us/user/christinaamy:christinaamy at 2011-09-29 - By ###://profile.imageshack.us/user/christinaamy:christinaamy at 2011-09-29


---

Comment | View 12 comment(s)
---
Emma Roberts Success - June 28th, 2011
I have been a fan of hers for years and she keeps getting prettier! I sent a LOR, and 8 x 10, and a SASE to Emma Roberts on 6-5-11. I used the address in the database of: Emma Roberts c/o Sweany Management 8755 Lookout Mountain Ave. Los Angeles, CA 90046 Not only did I receive my picture back from her signed and personalized, but she also included a second picture in which she also signed and personalized on 6-27-11. -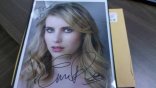 ---

Comment | View 8 comment(s)
---