Feedback received for Edward Asner (page 5 of 25):
Ed Asner - Success (Edward Asner) - August 10th, 2016
Request sent - 9/1/2015 Received - 9/21/2015 Ed Asner Quince Productions, Inc. 19574 Braewood Dr. Tarzana, CA 91356-5646 USA http://surfmypictures.com/image/e7b37b9 ... ueouc.html

---

Comment | View 1 comment(s)
---
Ed Asner - Success (Edward Asner) - July 28th, 2016
Ed Asner is a true class act and it was a pleasure to write to him. I used this site's suggested address. Also, this easily rates up there as one of the fastest replies I've ever received. Sent 7/18/16. Received 7/28/16. Two photos signed per my request with absolutely awesome inscriptions.
---

Comment | View 1 comment(s)
---
Ed Asner success (Edward Asner) - June 8th, 2016
Sent LOR, SASE, 4x6 photo on 3/29/16 to this address (it's his new home address): 19574 Braewood Dr. Tarzana, CA 91356 Received 4x6 signed on 4/9/16

---

Comment | View 0 comment(s)
---
Ed Asner Success!! (Edward Asner) - June 3rd, 2016
Sent LOR, SASE and two photos to Ed at the address in the database and received both photos back signed in about two weeks!! Edward Asner Quince Productions, Inc. 11802 Otsego Street Valley Village, CA 91607-3223 USA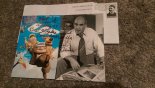 ---

Comment | View 1 comment(s)
---
Ed Asner Success! (Edward Asner) - April 30th, 2016
I received this QUICK response from Ed Asner! 9 Days! I sent it to the new address that is listed. Once again... he comes through with some great inscriptions! I love it! Sent: LOR, SASE, 1 5x6, and 1 dvd insert on 4.20.16 To: 19574 Braewood Dr. Tarzana, CA 91356 Received: on 4.29.16

---

Comment | View 1 comment(s)
---