Feedback received for Edward Asner (page 16 of 25):
Ed Asner ... Success (Edward Asner) - November 22nd, 2012
I sent Emmy winning actor Ed Asner a letter,sase and 2 index cards to the address in the database about a month ago and then today november.22 I got back my cards signed with nice inscriptions from Mr.Asner and like the other successes from him lately the Envelope was postmarked from New York so they are forwarding his mail to him there

I grew up watching all of his great shows like "Lou Grant" & the "mary tyler moore" show and he has done so much more since.He is a true Television legend...

- -


---

Comment | View 3 comment(s)
---
Edward Asner Success! - November 20th, 2012
Sent 10/20/12: LOR, 3 Pics (one for my friend), SASE, Q & A Received 11/8/12: 3 Pics signed and Q&A filled out in my SASE Address: Edward Asner Quince Productions, Inc. 12400 Ventura Blvd. Suite 371 Studio City, CA 91604 USA Pics: - - Comments on Authenticity are Welcome! Thanks Mr. Ed Asner!

and Fanmail!


---

Comment | View 1 comment(s)
---
Ed Asner Success! (Edward Asner) - November 13th, 2012
Sent on: 10-13-12 LOR, SASE, 2 Photos Received on: 11-13-12 My 2 Photos signed. - Pretty pleased with this success! If I ever buy the DVD of UP I plan on sending the cover to him as well! Edward Asner Quince Productions, Inc. 12400 Ventura Blvd. Suite 371 Studio City, CA 91604 USA

---

Comment | View 1 comment(s)
---
Edward Asner success - November 8th, 2012
I sent Edward a LOR, SASE and my DVD cover of Up to him on October 16 and today I got a reply. He kindly personilised his autograph to me on my cover. Very happy with this success. He is an AWESOME actor. Cover - Envelope - The address I used was Edward Asner Quince Productions, Inc. 12400 Ventura Blvd. Suite 371 Studio City, CA 91604

---

Comment | View 1 comment(s)
---
Ed Asner Success (Edward Asner) - November 5th, 2012
Sent: 10/12/2012 Received: 11/05/2012 Address Used: Edward Asner Quince Productions, Inc. 12400 Ventura Blvd. Suite 371 Studio City, CA 91604 USA - -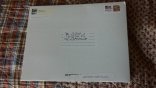 ---

Comment | View 1 comment(s)
---