Feedback received for Dustin Hoffman (page 1 of 9):


Dustin Hoffman Actor - August 12th, 2017
Dustin Lee Hoffman (born August 8, 1937) is an American actor and a director, with a career in film, television, and theater since 1960. Hoffman has been known for his versatile portrayals of antiheroes and vulnerable characters. He won the Academy Award for Best Actor in 1980 for Kramer vs. Kramer, and in 1989 for Rain Man. Sent him 2 photos on 24 Jul and got one back signed on 12 Aug..Also got a letter back from the company saying they appreciated the letter and kind words.. Mr Dustin Hoffman Punch Productions, Inc. 11661 San Vincente Blvd., Suite 222 Los Angeles, CA 90049
---

Comment | View 3 comment(s)
---
Dustin Hoffman - July 17th, 2017
Got this back today from Dustin Hoffman with his Punch Productions address. Took less then 2 weeks. Sent it on the 5th of this month. Sent with a top loader SASE, and LOR. Uploaded with ###://surfmypictures.com:surfmypictures

---

Comment | View 2 comment(s)
---
Dustin Hoffman success!! - August 8th, 2016
Sent a LOR, and picture to Dustin Hoffman two weeks ago and got back a different picture on Saturday.

Address used: Dustin Hoffman Punch Productions, Inc. 11661 San Vincente Blvd., Suite 222 Los Angeles, CA 90049 USA

---

Comment | View 6 comment(s)
---
Dustin Hoffman - February 1st, 2016
Sent LOR and self-addressed stamped envelope on December 23rd, 2015. Received this 8 x 10 on February 1st, 2016. Address used : Punch Productions, Inc. 11661 San Vicente Blvd. Suite 222 Los Angeles, CA 90049 Please see below for link to photo and envelope : http://surfmypictures.com/image/f60b415 ... sbduj.html http://surfmypictures.com/image/f60b415 ... uewsd.html

---

Comment | View 3 comment(s)
---
Dustin Hoffman Possible Success - September 19th, 2015
I am a little unsure if this is authentic or autopen. I can't find another signature that looks exactly like this one. And at a couple of points, the ink is not as solid. I would greatly appreciate any feedback. I sent it to the address in the database last month and received it back on 9-19-15. Dustin Hoffman Punch Productions, Inc. 11661 San Vincente Blvd., Suite 222 Los Angeles, CA 90049 USA Close-up of autograph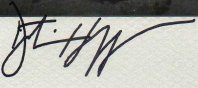 ---

Comment | View 8 comment(s)
---