Feedback received for Chris Gascoyne:
Received on:
July 16th 2017
Posted by:
LunaMellark
Hello, After sending out my second batch of Coronation Street requests, while I was on holiday I received two replies. The first was from Chris Gascoyne, who plays Peter Barlow in the show. I sent a LOR (in a larger envelope with several others) and an SAE to the Coronation Street studio address and received a signed cast card a few weeks later!

Sent: 19/6/2017 Received: 13/7/2017 Address Used: Chris Gascoyne C/O: Coronation Street ITV Trafford Wharf Road Stretford Manchester Greater Manchester M17 1AU Thank you!
Chris Gascoyne (Coronation Street) Success!

View post >>
Received on:
September 27th 2014
Posted by:
MaryC
Heey

Sent Chris an LOR & SASE Aug 18th 2014, and I received a signed cast card Sept 12th 2014

Address Used, Coronation Street, ITV, Trafford Wharf Road, Stretford, Manchester, Greater Manchester, M17 1AU UK. Photo - Envelope -
Chris Gascoyne (Peter Barlow Coronation Street) Success :)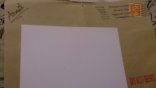 View post >>