Feedback received for Chase Elliott (page 1 of 2):
Chase Elliott (NASCAR) - Success - April 3rd, 2020
I wrote to Chase Elliott on 2/28/2020, sending him a LOR & SASE. On 4/1/2020 (33 days total) I received an autographed card. My envelope was overkill with the size comparison, but I was thinking a hero card might be sent (at least that's what I thought according to his
). Honestly, I think this little card is cooler.

The address I used: Chase Elliott Chase Elliott Motorsports ATTN: Autograph Request P.O. Box 1948 Dawsonville, GA 30534
---

Comment | View 1 comment(s)
---
Chase Elliott NASCAR Success - March 21st, 2020
Sent LOR, SASE, 2TC to Chase Elliott on 12/29/19. Got them back signed today. Chase Elliott Chase Elliott Motorsports P.O. Box 1948 Dawsonville, GA 30534
---

Comment | View 1 comment(s)
---
Chase Elliott (NASCAR) - November 9th, 2019
Chase Elliott Chase Elliott Motorsports P.O. Box 1948 Dawsonville, GA 30534 Sent 10/15/19 Received 10/28/19 Signed 3 of 3 TC, DNS 1 AC. http://surfmypictures.com/image/4f5f20aa866b9f04/8rncg.html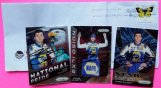 ---

Comment | View 1 comment(s)
---
Chase Elliott - February 3rd, 2017
Sent LOR, SASE and 2 TC to Mr. Chase Elliott C/O Bill Elliott Fan Club 2367 Elliott Family Pkwy Dawsonville, GA 30534-3009 Sent 1/17/17, received 2/3/17 Uploaded with ###://surfmypictures.com:surfmypictures

---

Comment | View 4 comment(s)
---
Bill Elliott & Chase Elliott success TTM!!! - May 16th, 2015
I sent a LOR, SASE and 3 photos to Bill and Chase Elliott on 3/23/15 to the address in the database and I received all 3 photos back signed today (5/15/15)



---

Comment | View 1 comment(s)
---