Feedback received for Carol Burnett (page 1 of 13):
Carol Burnett Success - February 2nd, 2019
I sent a letter and two photos to Carol Brunett and I got them back signed! I sent it out on 10/5/18 and I got it back on 1/5/19! Ms. Carol Burnett C/o Mabel Cat, Inc.
9663 Santa Monica Blvd. Suite 643 Beverly Hills, CA 90210 USA gotmail
gotmail
---

Comment | View 1 comment(s)
---
CAROL BURNETT SUCCESS - January 8th, 2019
SENT SAE + 2 PHOTOS TO BE SIGNED ON 14/9/2018 RECEIVED BOTH BACK SIGNED ON 4/11/2018 USED FANMAIL ADDRESS Carol Burnett Mabel Cat, Inc. 9663 Santa Monica Blvd. Suite 643 Beverly Hills, CA 90210-4303 USA [url=http://surfmypictures.com/image/d2c7fc9424c099ff/2hm1b.html:2hxykcwr][img:2hxykcwr]http://surfmypictures.com/photo/d2c7fc9424c099ff/2hm1b/IMG_1136.JPG[/img:2hxykcwr][/url:2hxykcwr] Uploaded with [url=http://surfmypictures.com:2hxykcwr]surfmypictures[/url:2hxykcwr] [url=http://surfmypictures.com/image/d2c7fc9424c099ff/ecf85.html:2hxykcwr][img:2hxykcwr]http://surfmypictures.com/photo/d2c7fc9424c099ff/ecf85/IMG_1135.JPG[/img:2hxykcwr][/url:2hxykcwr] Uploaded with [url=http://surfmypictures.com:2hxykcwr]surfmypictures[/url:2hxykcwr]


---

Comment | View 1 comment(s)
---
Carol Burnett Success! - November 9th, 2018
Sent a 5X7 photo to her Mabel Cat, INC address 10-15-18 and got it back 11-9-18 signed! Carol Burnett Mabel Cat, Inc. 9663 Santa Monica Blvd. Suite 643 Beverly Hills, CA 90210-4303 USA Uploaded with ###://surfmypictures.com:surfmypictures

---

Comment | View 1 comment(s)
---
Carol Burnett - Success! - November 8th, 2018
Carol Burnett Mabel Cat, Inc. 9663 Santa Monica Blvd. Suite 643 Beverly Hills, CA 90210-4303 Sent LOR, SASE and two 4X6's Sent: 10/26/2018 Received: 11/08/2018 (13 Days) ###s://ibb.co/e2VScq [/url



---

Comment | View 1 comment(s)
---
Queen of Comedy Carol Burnett - SUCCESS! - September 23rd, 2018
[size=150:The next addition to my autographed deck of playing cards is the Queen of Comedy herself, Carol Burnett! Apparently, she would have preferred to sign the Ace of Hearts! On June 19 I sent LOR, SASE, and playing card to: Mabel Cat, Inc. 9663 Santa Monica Blvd. Suite 643 Beverly Hills, CA 90210-4303 Received the card back signed and inscribed with a heart on September 21 (94 days).[/size: Uploaded with ###://surfmypictures.com:surfmypictures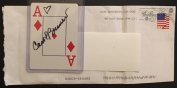 ---

Comment | View 3 comment(s)
---