Feedback received for Bobby Valentine (page 2 of 3):
Bobby Valentine success TTM! - June 12th, 2016
I sent a LOR, SASE and photo to him on 5/19/16 to this address: Bobby Valentine Sacred Heart University Dept. of Athletics 5151 Park Ave. Fairfield, CT 06825 I got it back signed today (6/11/16). Now got all 4.

---

Comment | View 1 comment(s)
---
MLB Bobby Valentine Success - May 8th, 2016
Sent a LOR, SASE, and 2 TCs to : Mr. Bobby Valentine c/o Sacred Heart University Dept. of Athletics 5151 Park Avenue Fairfield, CT 06825 Sent : 4/22/16 Received : 5/7/16 I sent two cards but he only returned one of them. Also, it was stamped from NY. Either way, it was a success...just don't send more than 1 card. http://surfmypictures.com/image/15e67ab ... pl9ns.html

---

Comment | View 1 comment(s)
---
Bobby Valentine success - March 30th, 2016
Send LOR + 4x6 photo + SAE + 2 USD for postage to Bobby Valentine (the greatest team manager in Chiba Lotte Mariners history) via Sacred Heart University in early March. And got the photo signed back today! photo http://surfmypictures.com/image/3f159cf ... 1z6q9.html sorry no envelope

---

Comment | View 1 comment(s)
---
Bobby Valentine - MLB (Success) - March 25th, 2016
Sent SASE, LOR and TC to Mr. Bobby Valentine. Received card back with nice signature in blue sharpie. Address used: Bobby Valentine Sacred Heart University Dept. of Athletics 5151 Park Ave. Fairfield, CT 06825 Date sent: 3/1/16 Date received: 3/25/16 Uploaded with ###://surfmypictures.com:surfmypictures

---

Comment | View 2 comment(s)
---
Bobby Valentine Success ( former MLB player and Manager) - February 21st, 2015
On 2/2/15 I mailed out a LOR, Stamp, Envelope and 1 1992 Topps card to former player and managers Bobby Valentine at the Sacred Heart address in the database. Today 2/20/15 I received my card back signed in a blue sharpie. Envelope: Uploaded with ###://surfmypictures.com:surfmypictures Card; Uploaded with ###://surfmypictures.com:surfmypictures Uploaded with ###://surfmypictures.com:surfmypictures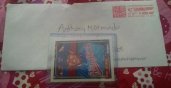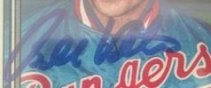 ---

Comment | View 1 comment(s)
---