Feedback received:


Katherine MacGregor Success - September 14th, 2015
Sent a fan letter, and SASE (no photo) to Katherine MacGregor, aka the legendary Mrs. Oleson from Little House on the Prairie, on 10/25/14, using the address in the database (the Motion Picture Television Fund address). Got this nice photo and response to my letter back on 9/11/15. Very nice response. http://surfmypictures.com/image/2a77d4d ... 73wsk.html

---

Comment | View 1 comment(s)
---
Katherine MacGregor - Little House On The Prairie - Success - March 6th, 2014
On 2 3 14 I sent a SASE, a LOR, and a cutom index card to Ms. MacGregor, and on 2 25 14 I got it back signed and personalized. Ms. MacGregor was also kind enough to write a brief message on the back of my index card, as well as respond to things that I had written in my letter. Super nice woman! Used her private address in Woodland Hills, Ca.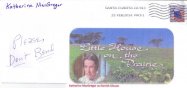 ---

Comment | View 2 comment(s)
---
Katherine MacGregor Adress Rejected Please Help ME !!!!!! - December 5th, 2013


Used the address here in the database to contact Katerine MacGregor, but envelope came back rejected and no forward available. Address used: Katherine MacGregor 1900 North Vine Street Suite 306 Los Angeles 90068 USA Do you know the new address? Please !
---

Comment | View 9 comment(s)
---