Feedback received:


Singer Vic Damone Success - February 26th, 2016
Got back singer Vic Damone who charted several hits throughout the 1940s to the 1960s. Vic Damone 10 Sloans Curve Dr. Palm Beach, FL 33480-5215 USA He signed my photo I sent him and included one of his own and returned them in my SASE. Address and photos on my blog -> http://markdautographs.blogspot.ca/2016 ... amone.html

---

Comment | View 4 comment(s)
---
Vic Damone Singer mainly 50s, 60s - September 15th, 2015
Vic Damone (born Vito Rocco Farinola; June 12, 1928) is an American singer, songwriter, actor, radio and television presenter and entertainer, of Italian descent, best known for his song's, including number 1# hit You're Breaking my Heart and My Heart Cries for You (number #4) and On the Street Where You Live (Number #4 ) from My Fair Lady. Sent him 2 photos on 28 Aug and got both back signed on 15 Sep. Wrote.. My Best Wishes To You.. Mr. Vic Damone Vic Damone Enterprises 10 Sloans Curve Dr Palm Beach, FL 33480-5215
---

Comment | View 2 comment(s)
---
Vic Damone (Classic 50's Singer) Success!! - August 22nd, 2015
Sent Mr. Vic Damone a SASE, LOR and two CD inserts to the Palm Beach address in the database on 7/30. Today (8/21) I received both inserts signed and personalized! Really excited about this success from an amazing classic singer! Frank Sinatra said he had "the best set of pipes in the business!"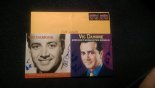 ---

Comment | View 3 comment(s)
---