Feedback received:


Jerry Lawler Success - September 11th, 2015
Sent: Roughly a year ago (wasn't keeping track) Received: 9/11 Address: one in database Jerry Lawler 415 Saint Nick Dr Memphis, TN 38117-4115 USA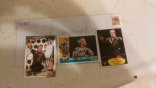 ---

Comment | View 1 comment(s)
---
Jerry "the King" Lawler Success!! (Jerry Lawler) - March 1st, 2013
Sent off to HOF Jerry "The King" Lawler on 2/13/2013: index card, SASE, and LOR Received today 3/1/2013: index card signed, and personalized like I asked in the letter. used the address in the database. Thank you Fanmail, and Jerry Lawler. you have shown why you are still the king.

Photo of autograph and envelope. Jerry Lawler 415 Saint Nick Dr Memphis, TN 38117-4115 USA -
---

Comment | View 1 comment(s)
---
Finally the King has arrived Jerry Lawler success - February 12th, 2013
HI everyone,

back last march 2012 i sent a LOR, SASE, and 1 Pic to Pro Wrestling Legend Jerry "The King" Lawler. i am so excited and nit took my by surprise really since it has been so long. but today i received it back personalized. i used the address in the data base. it took almost 1 full year but i guess somethings are worth the wait. thanks fanmail and Mr. Lawler. you are truly a King of a man. Best Wishes Sean Sjazz

here is the pics enjoy: - and the envelope: - this is the addy used: Jerry Lawler 415 Saint Nick Dr Memphis, TN 38117-4115 USA
---

Comment | View 3 comment(s)
---