---
---
How to send your fan mail and autograph requests to Missy Franklin?:


If you want to request an autograph, follow the guidelines bellow. If you just want to mail a letter with the address above, and do not want anything back, then you can stop reading! If you live in USA send a properly stamped and self addressed envelope (minimum size 8.5" x 4") with your request letter and a photo. You can include a piece of cardboard to keep the photo from bending in shipping and also add "Do Not Bend" on the envelopes. Send your letter and wait. On average, there is going to be a 3+ month wait for a response. If you do not live in USA, you can purchase your american stamps here *For information on postage prices to receive a letter from USA click here.
---
Feedback received:


Missy Franklin, 2012 US Olympic swimming medalist, SUCCESS! - August 17th, 2013
On 11/10/12, I wrote Missy Franklin (2012 US Olympic medalist) with a TTM autograph request, sending SSAE and a single 3x5 card for signing. Got her reply today, 8/17/13, but in the form of a personalized Topps trading card that details her swimming career. It was signed "To Pat

....Missy USA." Her fanmail address is in the fanmail.biz database, and is below. Missy Franklin c/o US Swimming Association 1 Olympic Plaza, bldg. 2A Colorado Springs, CO 80909-5570 GO COLORADO NATIVES!
---

Comment | View 0 comment(s)
---
Missy Franklin Success - February 16th, 2013
sent lor, 1 card and sase (september 1st 2012) received my card back signed in my sase (february 16th 2013) took just over 5 months (it isnt a stamp before you say it is, the auto is different to all the so called "stamps" ive seen) photo: http://pautographs.webs.com/apps/photos ... =174675797

---

Comment | View 1 comment(s)
---
Missy Franklin stamped "success" - February 16th, 2013
Very disappointing today~ received my two 6x4 photos back "signed". both are stamped autograph.


sent:2012/9/18 received:2013/2/16 here is the photo. -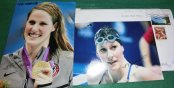 ---

Comment | View 2 comment(s)
---