Feedback received:


Beverley Callard (Coronation Street) Success! - July 4th, 2017
Hello, After sending out my second batch of Coronation Street requests, today I received three replies. The second was from Beverly Callard, who plays Liz McDonald in the show - I recieved the card in the same envelope as the card from Sam Aston. I sent a LOR (in a larger envelope with several others) and an SAE to the Coronation Street studio address and received a signed cast card a few weeks later!

Sent: 19/6/2017 Received: 4/7/2017 Address Used: Beverley Callard C/O: Coronation Street ITV Trafford Wharf Road Stretford Manchester Greater Manchester M17 1AU http://surfmypictures.com/image/017486ac9f11f2c2/5cz7n.html:http://surfmypictures.com/photo/017486ac9f11f2c2/5cz7n/lhXV8tqN.jpg-large.jpeg Thank you!
---

Comment | View 3 comment(s)
---
Beverley Callard (CORONATION STREET-Liz McDonald) - September 4th, 2014
Date Sent: July 9th, 2014 Date Received: September 4th, 2014 Sent LOR and SASE to: Beverley Callard c/o Coronation Street ITV Trafford Wharf Road Stretford Manchester GREATER MANCHESTER M17 1AU England Received 6x4 colour "Coronation Street" promo photocard signed and inscribed. Thank you very much Beverly. Here is the link to the photo/envelope. BEVERLEY CALLARD CORONATION STREET AUTOGRAPH/ENVELOPE:

---

Comment | View 1 comment(s)
---
Beverley Callard (Liz McDonald - Corrie) Success - March 21st, 2014
Heey

I sent an LOR & SASE to Beverley Feb 3rd 2014, and I received a signed cast card back in my SASE March 21st 2014

used Corries old address. New Corrie Address, Coronation Street, ITV, Trafford Wharf Road, Stretford, Manchester, Greater Manchester, M17 1AU UK. Photo - - Envelope - -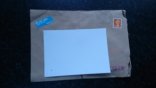 ---

Comment | View 1 comment(s)
---