---
---
Players you can contact at this address (2018-2019 season):


Jan Rutta (Defenseman), Alex DeBrincat (Right wing), Dylan Sikura (Right wing), Nick Schmaltz (Center), Erik Gustafsson (Defenseman), Connor Murphy (Defenseman), Chris Kunitz (Left wing), Brent Seabrook (Defenseman), Artem Anisimov (Center), Jonathan Toews (Center), Patrick Kane (Right wing), Brandon Manning (Defenseman), Anton Forsberg (Goalie), Brandon Saad (Left wing), Cam Ward (Goalie), John Hayden (Right wing), Duncan Keith (Defenseman), Marcus Kruger (Center), Corey Crawford (Goalie).
---
How to send your fan mail and autograph requests to Chicago Blackhawks?:


If you want to request an autograph, follow the guidelines bellow. If you just want to mail a letter with the address above, and do not want anything back, then you can stop reading! If you live in USA send a properly stamped and self addressed envelope (minimum size 8.5" x 4") with your request letter and a photo. You can include a piece of cardboard to keep the photo from bending in shipping and also add "Do Not Bend" on the envelopes. Send your letter and wait. On average, there is going to be a 3+ month wait for a response. If you do not live in USA, you can purchase your american stamps here *For information on postage prices to receive a letter from USA click here.
---
Feedback received:


Jonathan Toews (Chicago Blackhawks NHL) success! - February 12th, 2018
I sent a LOR, SASE, and a trading card to Chicago Blackhawks captain Jonathan Toews on Nov. 6th 2017. I got my card back, signed, on Feb. 12th 2018! I used the Blackhawks address in the database: Chicago Blackhawks United Center 1901 West Madison Street Chicago, IL 60612 Uploaded with ###://surfmypictures.com:surfmypictures Uploaded with ###://surfmypictures.com:surfmypictures


---

View 1 comment(s) | Comment
---
Corey Crawford (Chicago Blackhawks NHL) success! - February 8th, 2018
Sent a LOR, SASE, and 2 trading cards to Chicago Blackhawks goaltender Corey Crawford on Nov. 20th 2017. I got both my cards back signed on Feb. 8th 2018! I used the Blackhawks address in the database: Chicago Blackhawks United Center 1901 West Madison Street Chicago, IL 60612 USA Uploaded with ###://surfmypictures.com:surfmypictures Uploaded with ###://surfmypictures.com:surfmypictures


---

View 1 comment(s) | Comment
---
Jimmy Waite NHL Success (Chicago Blackhawks) - January 12th, 2018
Sent LOR, SASE and TC to: Mr. Jim Waite c/o Chicago Blackhawks 1901 W. Madison St. Chicago, IL 60612 Received my card back signed. Sent: 10/25/17 Received: 1/12/18 Uploaded with ###://surfmypictures.com:surfmypictures Uploaded with ###://surfmypictures.com:surfmypictures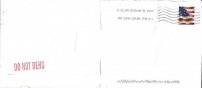 ---

View 1 comment(s) | Comment
---