Feedback received:


Linda Larkin Success - May 29th, 2015
Sent: LoR, $3, SAE and 3 4x6 photos Received: All 3 photos signed Unfortunately one of them is smudged, but that's okay, the other two are good. It is definitely worth the wait.

Sent: September 22, 2014 Received: May 29, 2015 Linda Larkin CESD Talent Agency N.Y. 257 Park Avenue South 9th Floor New York, NY 10010 USA

---

Comment | View 3 comment(s)
---
Linda Larkin success - May 29th, 2015
LOR and SASE sent around 12/30/14. Received back in April '15. Address used: Linda Larkin CESD Talent Agency 10635 Santa Monica Blvd. Suite 130/135 Los Angeles, CA 90025-8306 i think this was the envelop (have the stack of them, but already put the photos in a collage frame):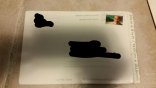 ---

Comment | View 2 comment(s)
---
Is this address still valid for Linda Larkin? - October 5th, 2009
Hello, I've been meaning to write Linda Larkin and I was just wondering if this address is still valid? Last response on 2/13/2009. Linda Larkin c/o Cunningham Escott Dipene 257 Park Avenue South New York, New York 10010 Thank you.
---

Comment | View 0 comment(s)
---